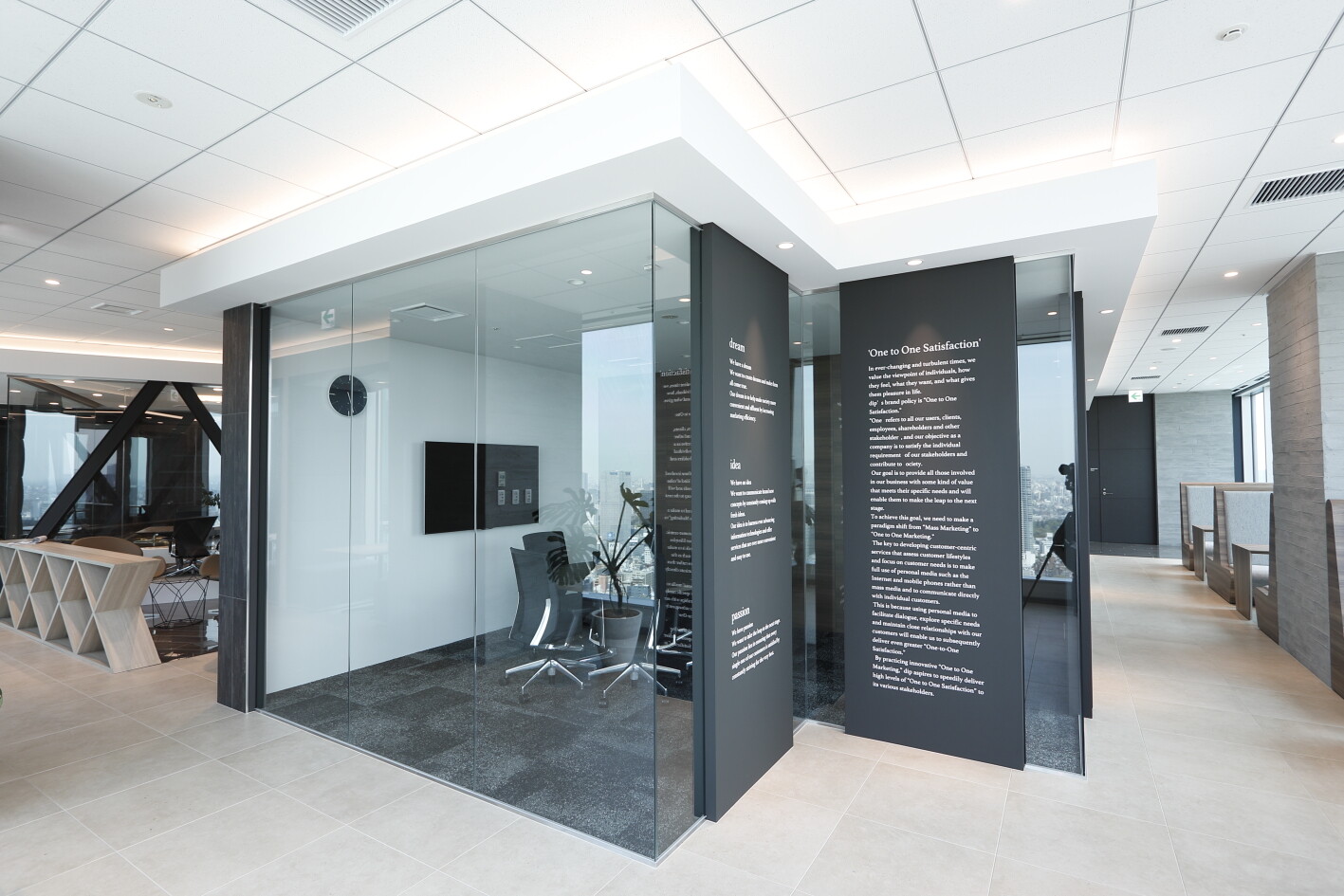 Health Management Initiatives
Health Management Initiatives
Health Declaration (Declaration on Employee Health)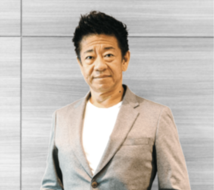 'Health' to realize dreams and ideas with passion.
What inspires us at dip are the "dreams, ideas, and passion" embodied in our company name.
When you have a dream that you want to achieve with all your heart, ideas will naturally come to you, and you will be filled with passion to give shape to those ideas.
Health is an essential factor in maintaining dreams, ideas and passion.
At our company, which is based on the principle that 'people are everything, people are assets', we not only aim to prevent illness, but also to optimize our physical and mental condition so that we can create and provide better services that will inspire dreams, ideas, and passion. In this way we will realize the happiness of all of our employees and their families.
Hideki Tomita, Representative Director and CEO, dip Corporation
Thoughts and Ideas on Health Management
Our management philosophy is 'People are everything, people are assets', and we believe that employee health management is one of the important factors that directly affects work productivity and employee happiness. It is not only about 'not getting sick', but also about 'becoming more energetic and happier than before'. With this in mind, we have adopted the concept of health management as geared toward 'improving the mind and body'.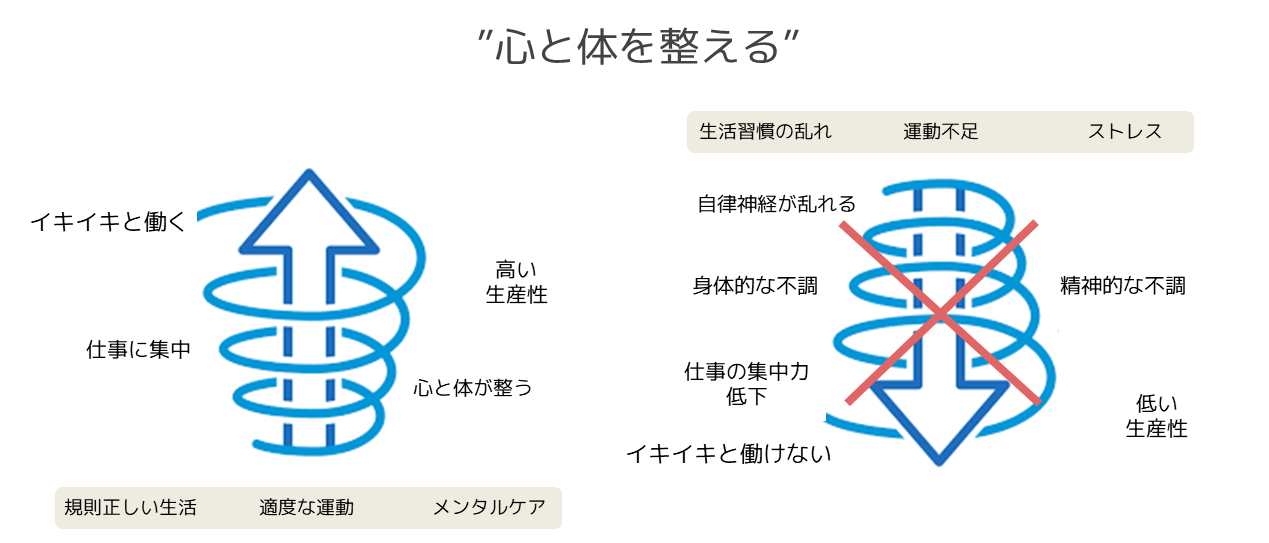 By keeping your mind and body in good condition, you will be able to concentrate more on your work, maximize your creativity and performance, and work more vigorously. We believe that fulfilling our work will lead to the satisfaction of our customers and users, as well as to a greater happiness in our personal lives and those of our families.
Health Management Promotion System
We have established a Health Management Promotion Committee and appointed a Health Management Promotion Leader from each branch office to serve as a member of the Health Management Promotion Committee to promote health management, with the aim of listening to the voices of front-line employees and promoting improvement in health management.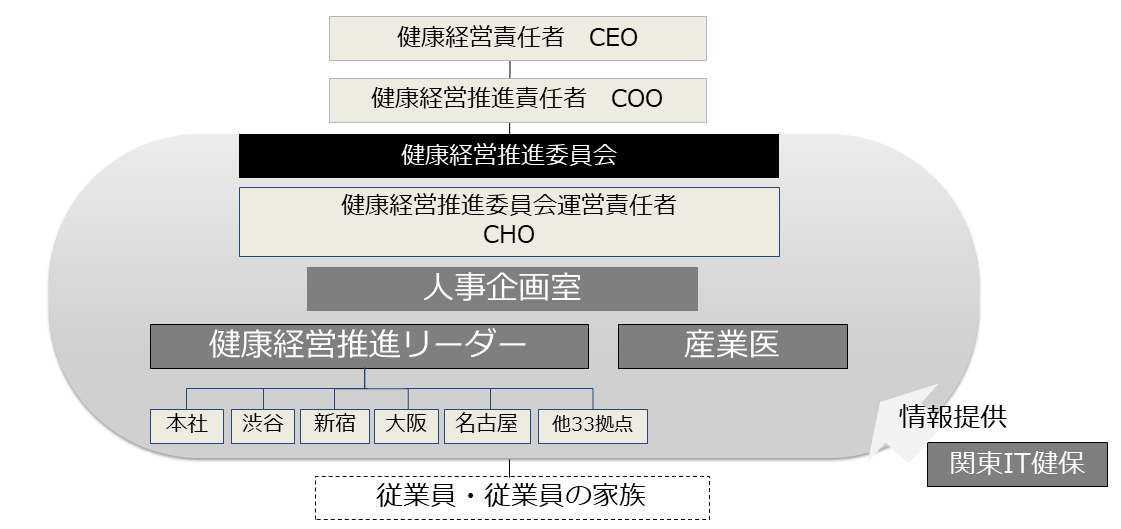 Health status and required measures
We are a young company with almost 70% of employees in their twenties, and a combined total of 90% in their twenties and thirties. Because we are a young company, we need to support our employees to work vigorously and with vitality, and because half of our employees are women, we need to enact measures to address health issues that are specific to women. Addressing these issues is vital for our corporate growth. The health data clearly shows that although our risk is lower than the national average, we must encourage our employees to make follow-up visits to their physicians and improve their lifestyle, exercise, and diet.
In addition, given current social conditions where the ratio of high-stress individuals is rising, we see it as important to improve daily lifestyle habits to keep the mind and body fit. We will continue to promote initiatives to help people develop healthy lifestyles, both physically and mentally, through efforts to acquire correct health literacy and to regulate the mind and body.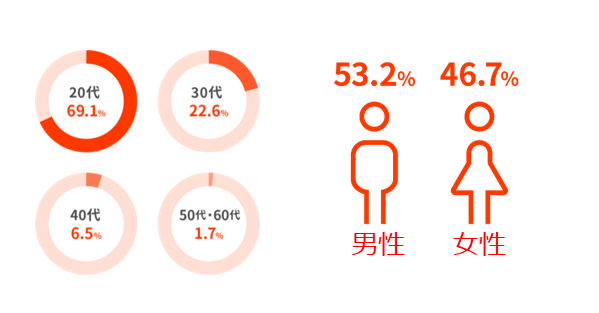 Health Management Initiatives
Dip's health management strategy map is based on the following three initiatives: raising health awareness, improving mental and physical health, and creating a healthy work environment.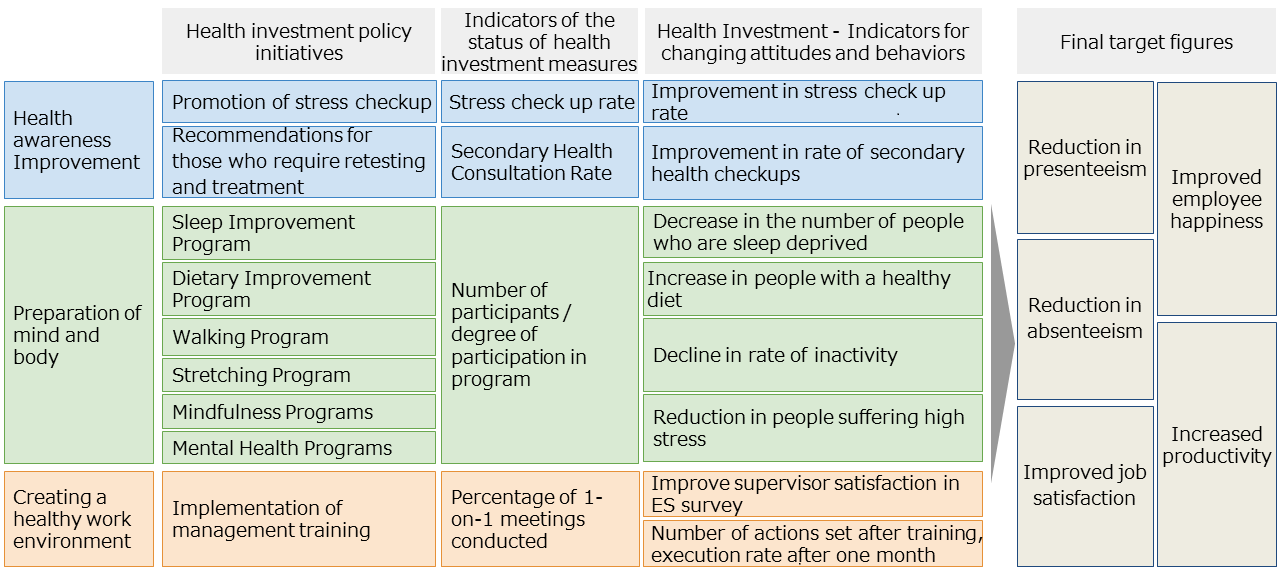 【Status of Initiatives】
■Number of participants in the Stretch Program: 557
Staff Survey comments (excerpts)
・If I don't do it consciously, it won't become a habit, so I am grateful for this opportunity. I've resolved to do it in my free time. Thank you very much! (Employee A)
・It was my first time to participate, but it was a good time. Thank you very much. (Employee B)
・When I did the neck stretching today, I realized that my neck was very stiff. Thank you very much. (Employee C)
I would have liked to keep going longer! (Employee D)
■Information on Dietary Improvement Programs viewed by 1,450 employees (76.0%), and participated in by 520 employees (27.3%).
■Number of participants in the walking program: 85
Raising Health Awareness
Taking action on lifestyle improvement, moderate exercise, and mental health care begins with awareness and interest in one's own health, and recognition of one's current condition.
<Main initiatives>
・Promotion of stress check examinations
・Health checkups
In addition to the legally mandated medical checkups, we have established a system to provide diagnosis of additional items for those 35 years old and above, which is useful for early detection and treatment of diseases.
・Recommendations for those who require follow-up consultations and treatment
・In-house influenza vaccination
We promote in-house mass influenza vaccination for all employees, and provide full subsidies for vaccine costs. As a risk management measure, we have installed disinfectants and stockpiled masks for emergency use.
・Setting up a non-smoking awareness day
The 22nd of every month is designated as a non-smoking awareness day, and posters and information to educate people about the risks of smoking are displayed.
Regulate your mind and body
We provide programs to help you create a better rhythm in your life and work vigorously according to your own health and condition.

Main initiatives
Regular Life
①Dietary improvement program
Employees with qualifications (nutritionists, dietary life advisors, etc.) and those who are interested in cooking and dietary improvement serve as dietary improvement ambassadors and provide specific recipes for healthy meals based on their food-related health knowledge on the company's SNS to promote interest in dietary habits. Every year, we also set up a month (September 1 to 30) to raise awareness of dietary habits by displaying educational posters in all branch offices.
Smart Life Project HP (Ministry of Health, Labour and Welfare): https://www.smartlife.mhlw.go.jp/
Moderate exercise
②Walking Program (Sleep Program)
Walking is an easy form of exercise that helps improve and prevent diseases. Walking has a high fat-burning effect and has a positive impact on neutral fat reduction, blood pressure, and blood sugar levels, leading to a reduction in obesity and the prevention of lifestyle-related diseases. This event is open to anyone who is interested, such as those who feel they don't get enough exercise on a daily basis, those who have trouble sleeping, those who want to do something for their health, and those who simply like to take walks. Participants are given smart watches and compete against each other to see how many steps they have taken, how long they have slept, and their average BMI.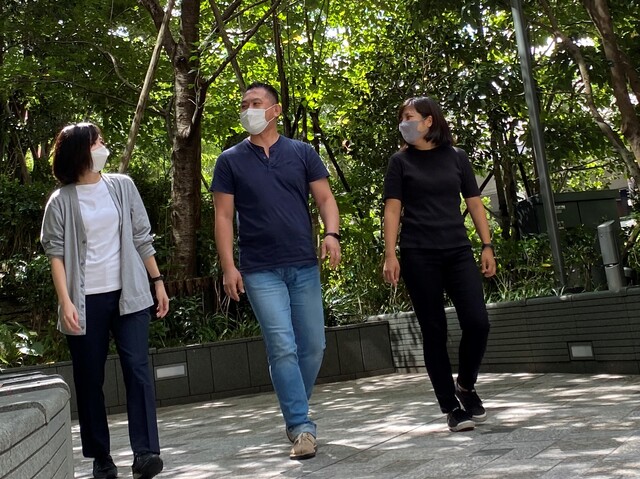 ③Stretching Program
Our company has a massage room and professional medical personnel on staff. In line with the promotion of telework to prevent the spread of COVID-19, many of our employees have voiced their concerns about lack of exercise and neck, shoulder and back problems caused by prolonged sitting and inactivity. The online stretching program, which can be easily done while working, provides an opportunity for employees to participate in exercise in a fun and easy way.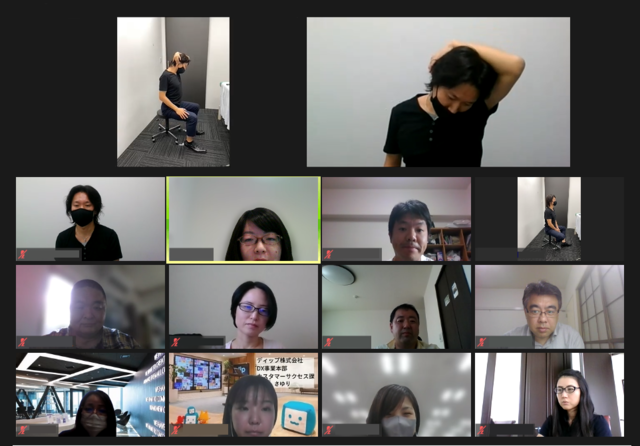 Mental Health Care
④Mindfulness Program
This program is designed to help employees improve their concentration which will lead to better physical and mental condition. We offer a short intensive course to learn the basics, and then provide an app so employees can continue to work the program.
⑤Mental Health Care Program
We provide an e-learning program on self-care that can be viewed by all employees with the aim of improving health literacy and encouraging employees to take an interest in their own health. The program can also be viewed on smartphones, making it easy to participate anytime, anywhere, including during travel time and free time. We solicit feedback in the form of questionnaires after participation to expand and improve the content.
Creating a Healthy Work Environment
When you are conscious of your health, know your condition, and take action to improve it, it is important to create an environment for continuity. Based on communication with managers, we are working on initiatives to maintain and improve health.
<Main initiatives>
・Training for managers (implementation of reflection program on communication (RRT))
・Training for newly appointed managers (mental health, etc.)
 In order to prevent mental illness, we are striving to improve the level of management knowledge through management training sessions.
・Implementation of 1-on-1 meetings
 One-on-one meetings are held once a month for all full-time employees with their supervisors to help them resolve issues they are facing and achieve their goals.
・Enhancing programs to support employees returning to work and expanding support for balancing treatment for illness and work
 We have a support system in place for employees who are on leave for injury or illness or who are trying to balance treatment and work. Interviews with specialists, consulting physicians, supervisors, and human resources are conducted to deepen communication and provide support for employees to return to work with peace of mind. Specialists, consulting physicians, and human resources also support managers who need consultation.
・Online medical consultation for employees and their families
 In order to support the health of our employees and their families, we have introduced the M3 Patient Support Program, a corporate program of M3, Inc. Employees can use the application to consult with doctors 24 hours a day, 365 days a year for health consultation and to obtain second opinions. Multiple doctors can respond to e-mail inquiries in as little as five minutes.
・Consultation service for mental and physical health (mental health care)
 We have established a system where employees can feel free to consult with a professional counselor about their problems and concerns. In addition, once a year, we conduct a stress check as stipulated in the Occupational Health and Safety Law, so that employees can be aware of their own mental condition and understand their stress in the workplace, thereby preventing stress-related health problems.
・Consultation service for female employees
 We have established an environment where women can consult with us about health issues specific to women without anxiety.
・Installation of massage room
 A massage room has been set up at the Tokyo Head Office, where professionally qualified health keepers provide treatment to help employees recover from physical fatigue and relieve stress.
・Cost subsidy for telecommuting
 When desks, chairs, etc. are purchased to improve the work environment for telecommuting, we pay up to 10,000 yen toward the purchase.
・Measures against long working hours
 When an employee whose working hours exceed a certain standard is identified, an alert is sent to the management in real time from the attendance system, creating an environment in which the management can work on decreasing the working hours of the employee while striving to improve work efficiency. In the unlikely event of a violation of the agreement, health care interviews are conducted with the relevant employees by physicians and human resources personnel, and managers are required to submit a report for improvement. In addition, the status of working hours for all employees is reported to the Board of Directors on a regular basis to encourage company-wide improvement and thoroughness.
・Office space that stimulates communication
Based on the concept of 'the most communicative office in Japan', we have created an office space that enhances the creativity of our employees and maximizes the potential of each individual through active communication. The office space is designed with functionality, comfort, creativity, and flexibility in mind, and includes standing meeting spaces, office stations for incidental encounters, spaces for focused work surrounded by sound-absorbing boards, and a café space for refreshment.
・Health and Safety and Promotion
In accordance with the Occupational Health and Safety Law, regular meetings of the Health Committee (consisting of the general health and safety manager, health manager and safety promoter, specialists, and general employees) are held every month. In addition, this committee holds discussions focusing on various issues related to health management. The committee is also responsible for examining matters that require improvement and making recommendations to management.
Results of Health Management Initiatives
Health support for society
Implemented measures to prevent and contain the spread of COVID-19.
Financial support for part-time workers, temporary workers, contract workers, and other fixed-term workers employed through "Baitoru," "Baitoru NEXT," and "Hatarako-net" in the event that they become infected with the new coronavirus and unable to work for quarantine.
Launch of special feature on 'companies with support for COVID-19 vaccination' to provide job seekers with information on companies that incorporate vaccine incentives and work to create a safe and secure environment.
Related Media Publications
■2021.9.13
Nobuaki Kito, Corporate Officer and Chief Human Resources Officer (CHO), speaks at the "Online Seminar on Countermeasures against Infectious Diseases" hosted by Nikkei Inc.
https://www.dip-net.co.jp/news/1706
■2021.10.4
Suguru Osako is appointed as the dip "Vaccine Incentive Project" ambassador.
Osako talks with dip about their shared thoughts and efforts on the topic of vaccination.