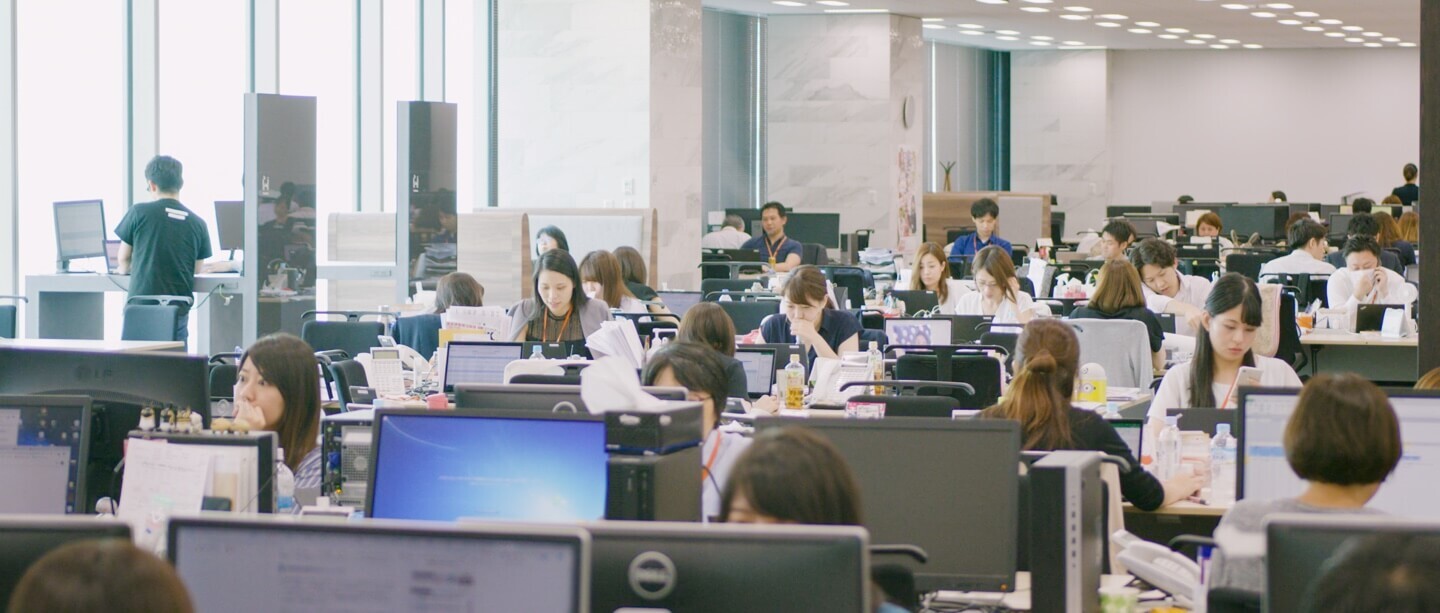 Development of the Foundations of Our Employees
Development of the Foundations of Our Employees
In 2008 the Lehman Shock triggered a global financial crisis forcing many companies to undertake restrictive measures. Notwithstanding this situation, DIP resisted the trend to cut back its labor force and instead explored a range of alternative solutions. This corporate approach is based on the conviction of Hideki Tomita, President and CEO, (It has long been his stance) that "above all, it is employees that count the most. Employees are the most important asset for DIP." Based on the principle that manpower is the strongest driving force for changing our future, DIP remains committed to improving its employee satisfaction and promoting work style reform initiatives by seeking to develop the foundations of its employees while encouraging each of them to conduct their duties with the aim of creating a better society.
1. Bolstering sales capabilities through the large-scale recruiting of new graduates and extensive staff training
DIP takes a positive stance toward hiring new graduates with the aim of enhancing its sales resources and capabilities. In April 2006, DIP hired approximately 200 new graduates, effectively doubling its sales force to 400. In April 2015, for the first time DIP hired 300 new graduates. DIP has since employed around 300 new graduates in each of the six subsequent years.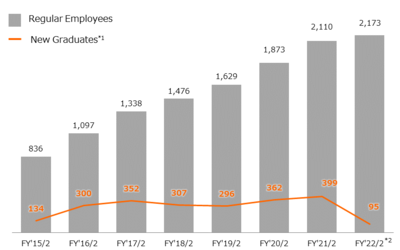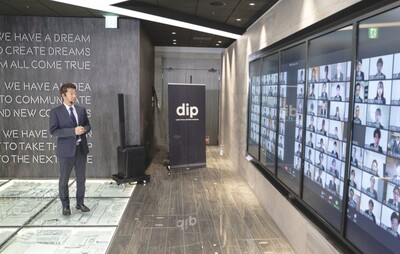 DIP offers extensive employee training and many other programs as part of its human resources development initiatives, resulting in an employee turnover ratio that is significantly lower than the average for the lifestyle-related service industry.
---
■ Retention rate (Full time staff voluntary turnover rates are assumed)

FY2018 89.1% (10.9%)
FY2019 87.9% (12.1%)
FY2020 89.0% (11.0%)
FY2021 89.1% (10.9%)
2. Skill improvement with employee training programs
DIP remains focused on employee training programs with the aim of achieving further improvements in customer service. Moreover, DIP maintains an active approach in terms of providing position specific training for new employees as well as managers in order to help junior employees demonstrate their best job performance in the workplace, where they constitute a high percentage of the total workforce. Seeing each employee grow toward his/her potential is the key to the business development of DIP.
Training for new graduates
1) Introductory training: During a one-week program, new graduates gather and learn about the basics of business and the company. Topics include, an overview of the human resources service industry and DIP's various businesses, as well as instruction on developing a business mindset, and using appropriate business manners.
2) Practical training: A month-long training program offered subsequent to the introductory training. Trainees are grouped into business divisions for practical training purposes before being assigned to a certain position. Through role-playing exercises, they learn primarily about the practical steps to follow in business, such as making appointments by telephone and meeting with clients.
3) OJT training: Trainees gain further understanding and skills through sales activities that include customer visits with bosses or senior colleagues in the departments to which the new employees has been assigned.
4) Follow-up training: Training offered six months after employment. Trainees reflect specifically on their own activities in the previous six months, identify personal areas of development as well as challenges, and set goals to achieve with appropriate action plans.
Training for promotion
This training is offered twice a year to those employees who have received job promotions. They learn about the mindset and skills required in the new job position through lectures and group work.
Position-oriented training
Performance Development (PD) training is offered to those employees who have received certain job promotions one and a half years after being promoted. This program is designed to help trainees realize what they are expected to achieve as members of the organization, and to take proactive steps toward realizing their potential. The program includes a 360-degree employee evaluation survey based on evaluations gathered in advance from the employee him/herself, superiors, colleagues, and senior/junior co-workers. Through this training the employee is encouraged to identify how his/her activities are perceived by others in the office, and by identifying gaps between the self-assessment and the perceptions of others, elicit a deeper understanding of his/her current work style and encourage improvement for the future.
Training for managers
1) Training on the basics of management
Over the years, DIP has offered training programs focused on topics consistent with the management agenda. Newly appointed managers are required to have completed all the training programs offered in the past.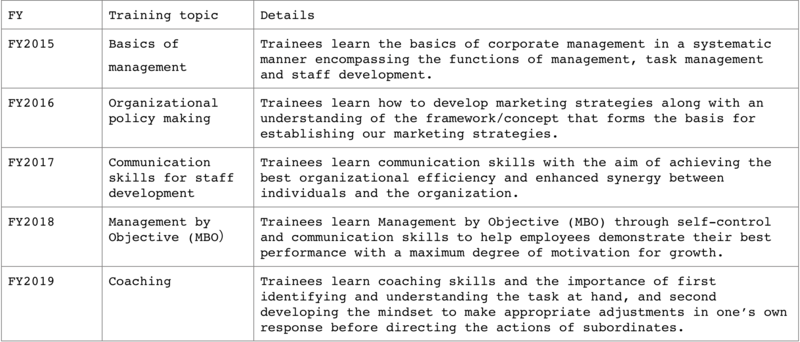 2) Reflection round table
Participants learn how to achieve further development in management by reflecting on their current management style. Participants are asked to examine whether they are unconsciously trapped in a reactive behavioral or thinking pattern for reasons associated with traditional practices or their superior's preferences. A 90-minute program (120 minutes for the first round) is offered once a week for a total of 12 rounds.
Self-education support
This program is designed to provide opportunities to gain knowledge and skills systematically, with the aim of improving employee capabilities and motivation, within an environment that provides consistent learning opportunities.
1) DIP University
This program provides training content for employees to help them learn the basics of business and business skills systematically online or at school, depending on their preferences.
2) GLOBIS training for selected employees
This training program is designed for selected employees (60 people per year) with the aim of developing the next generation of leadership team members. Participants are eligible to take the course free of charge at GLOBIS Management School, a leading business school in Japan. Around 300 DIP employees have attended the course as of February 2018.
3) Learning support program
The cost of online or other training programs, taken for the purpose of self-education, is partially subsidized by DIP.
Sustainability Training
In line with the corporate resolution to strengthen our sustainability initiatives, we are conducting employee education to promote a better understanding of Corporate Social Responsibility (CSR), Environmental, Social and Corporate Governance (ESG) and Sustainable Development Goals (SDGs) among our employees. In addition to the basic training for managers, we are conducting a program of internal seminars for management conducted by outside experts and lecturers in the various related fields. Important information on sustainability initiatives will be disseminated to all employees through our intranet and internal newsletter. We will continue to make every effort to educate employees on sustainability in order to foster CSR, ESG, and SDGs literacy, and encourage employees to think and take action on their own initiative.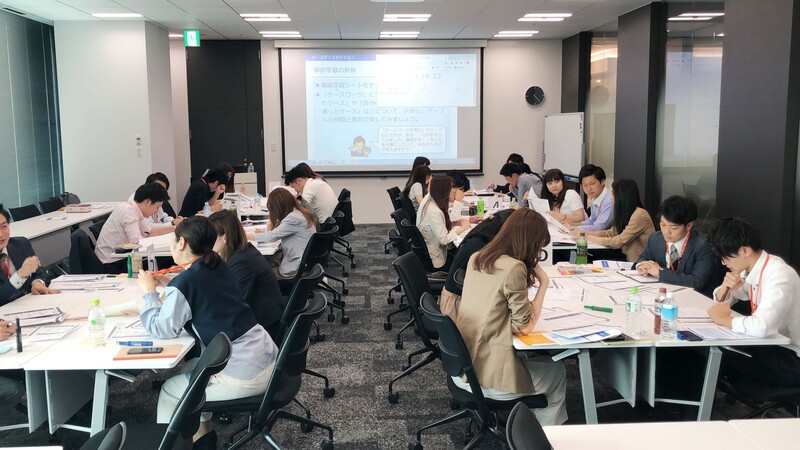 ■ Time spent by employees on training, etc.

・FY2021
Total time of training: Approximately 285 hrs / Time of training per employee: Approximately 3 hrs / Average of about 0.3 days per person

*Includes introductory and follow-up training for new graduates, training for managerial positions, training for newly appointed managers, training for newly appointed senior managers, training for promoted employees, PD training, theme-based training, problem-solving skills training, and coaching training.



3.An HR system to boost employee capabilities
Efforts are underway to establish a system that is capable of improving individual growth and capabilities.
【Position levels】
Provided below is the list of position levels established in accordance with the level of skill development. An entry-level employee begins at S1.
Upon assuming a manager's position, the employee begins developing a career path, choosing from among Organizational Manager, Player/Manager or Technical Manager.

【Evaluation】
Employee performance is evaluated in terms of three criteria including stance (the attitude shown while working on duties required by the company), basic skills and behavior in executing business, and achievements. In the early stages of career development, stance, skills and behavior are the primary evaluation criteria, while the relative weight of the importance of achievements will rise in accordance with each employee's stage of career advancement. Moreover, the performance appraisal of employees with the introduction of the MBO technique provides a sense of ownership by respecting individual commitment to work results.
【Compensation】
The monthly compensation is comprised of the base salary and the fixed overtime pay (an additional allowance payable to the sales workforce). DIP undertakes employee performance appraisals twice a year and payroll updates (including pay raises) twice a year based on the performance evaluations.
Fixed overtime allowance
A fixed overtime allowance is payable to employees based on the assumption that they each work 1.5 hours overtime per day or 30 hours per month.
*The fixed overtime allowance is payable in full, even if the actual number of extra working hours turns out to be less than the amount initially assumed.
*Employees are paid for any additional working hours in excess of the monthly overtime allowance.
Allowances for new employees living in the Tokyo metropolitan area
To subsidize the high cost of living for junior employees living in the Tokyo metropolitan area, DIP pays new employee allowances to new or junior employees who have been with the company for 1-3 years on assignment in the Tokyo Metropolitan Area. If they live alone or run a household, they are paid ¥30,000/month for the first year of employment, ¥20,000/month for the second year, and ¥10,000/month for the third year. If they are not the head of a household, such as those living with their parents, they are paid ¥10,000/month for the first year of employment.
Allowance for sales workforce
A Sales Staff Allowance is paid to those with positions in consulting sales.
Bonus
Bonuses are payable twice a year (in June and December), commensurate with individual job performance and the overall business performance of the company.
Incentive program
Those employees in consulting sales positions are paid incentives on a monthly, quarterly or full-year basis in addition to their regular salaries, commensurate with the level of monthly achievements regarding individual or organizational targets. Those who are in Corporate Planning, Creative, Engineering and Corporate Administration Divisions are paid incentives on a quarterly or full-year basis. Moreover, the full-year incentive reward comes with a free trip (e.g. a trip to Hawaii in 2018) as a supplementary prize.
Retirement benefit program
With the introduction of the Employee Stock Ownership Plan (ESOP), employees with share ownership are expected to receive shareholder returns by demonstrating individual capabilities and enhancing corporate value.
【Fringe benefits】
Life support(Benefit Station)
DIP employees are eligible to use Benefit Station, a welfare service program, and employees are free to use the benefit services as often as they wish without limit at special rates offered to program members only. The Benefit Station offers a wide range of services including hotel accommodations, entertainment, child-care, nursing care, and self-education.
Zaikei program (workers' property accumulation savings)
DIP has adopted the Zaikei (workers' property accumulation savings) program with the aim of helping employees to make personal and retirement savings and acquire their own houses.
Defined contribution (DC) plan
The DC plan is a type of corporate pension scheme that enables employees to save for retirement with tax incentives that are more beneficial than those offered by regular bank savings accounts, such as a reduction in taxes (i.e. income tax, residence tax) and fully tax-deductible investment returns.
Employee stock ownership plan
This program is designed to help employees make savings for the medium to long term by allowing them to regularly acquire and hold the company's equity shares.
---
4. Development of the Foundations of Our Employees
DIP positions the physical and mental health of its employees and efficient operations as important management priorities for the sustainable growth of the company. Efforts are under way to create a better working environment and promote good health among employees so that all employees can feel secure in their work and fully demonstrate their capabilities.
[Creating a better work environment]
Promotion of health and safety
In accordance with the Industrial Safety and Health Act, DIP holds monthly meetings of its Health Committee (consisting of the General Safety and Health Manager, health officers, safety promoters, industrial physician, and non-management employees). At these monthly meetings, members of the above committee discuss the workplace environment and health issues, aiming to ensure that work at the company will not have adverse consequences for the health of any employee. The committee also has the duty to review points that require improvement and make appropriate recommendations to management.
Management restrictions on long working hours
DIP aims to build an environment that will permit its employees to continue working in good health in the long term. Efforts are underway at the company to eliminate overwork by reducing overtime in compliance with labor laws. With the exception of critical operations, the internal network is shut down at 21:00 to reduce hours worked by employees. When an employee's work hours exceed a certain threshold, the attendance management system notifies their manager in real time to make sure that an immediate adjustment is made to the employee's work hours, and operating efficiency is improved. If the labor-management agreement is violated, the affected employee will be given a health interview, and their immediate manager is obliged to submit a report describing planned improvements. In addition, the working hours of all employees are regularly reported to the Board of Directors to make sure that improvements are made wherever necessary.
One-on-one meeting conducted once a month
All regular full-time employees are individually required to have a one-on-one meeting with their immediate reporting managers once a month with the aim of helping them to find solutions to issues confronting them and achieve their targets.
Office environment with open communication
Efforts are underway to establish an office environment that is capable of maximizing the potential of individual employees with open communication and enhanced individual creativity, embracing the concept of creating the best office in terms of open communication in Japan. Our office features functionality, comfort, creativity and flexibility with areas dedicated to stand-up meetings, an office station for casual exchanges among employees, soundproof work spaces, and a café for relaxation, with the aim of enhancing employee motivation and productivity at work.
[Initiatives to improve employee health]
Mental healthcare
To prevent mental health issues from arising among employees, DIP strives to improve the level of related knowledge among managers through training programs. In addition, the company has established a system that permits employees to seek consultation, including professional counselling services, for their issues or anxieties. Further, the company conducts a stress check every year in accordance with the provisions of the Industrial Safety and Health Act. The company encourages employees to examine their own mental health, identify workplace stress, and take measures to prevent stress-related health problems.
Online healthcare support for employees and their families
The company has introduced the M3 Patient Support Program, an enterprise health support program developed by M3, Inc. for employees and their families with the aim of facilitating their access to appropriate medical services. This healthcare support system allows employees to contact doctors online and obtain second opinions from them directly without company involvement.
Flu injection cost covered in full
A mass infection of the flu would constitute a significant risk to the company's business. All employees are encouraged to receive the flu vaccination to minimize possible harm associated with infection, and the company covers the cost of the flu injection in full.
---
5. Initiatives to achieve further improvements in employee satisfaction
Making improvements in employee satisfaction is extremely important for the company because it could impact the quality of customer services provided. DIP conducts an employee satisfaction (ES) survey with questions to all employees once every six months. The survey results are sent back to the general managers and the leadership team in order to help them understand the status quo and work out corrective measures or adjust operating policies.
Introduction of cloud social media (web magazine) for internal communication
The company issues Enjoy!dip, an internal magazine, based on its belief that enhanced employee engagement will positively impact corporate management. In 2011, the company stopped printing the magazine on paper and introduced the online version. This has enabled employees all over Japan to read the magazine on a real-time basis. In 2018, with the number of employees exceeding 2,000 and the number of branch offices increasing to 33, the company introduced a cloud social media network for company-wide communication, aiming to promote closer two-way communication. With active communication between the management and branch offices, and between employees from different areas and divisions, the company encourages collaboration and understanding between all employees.