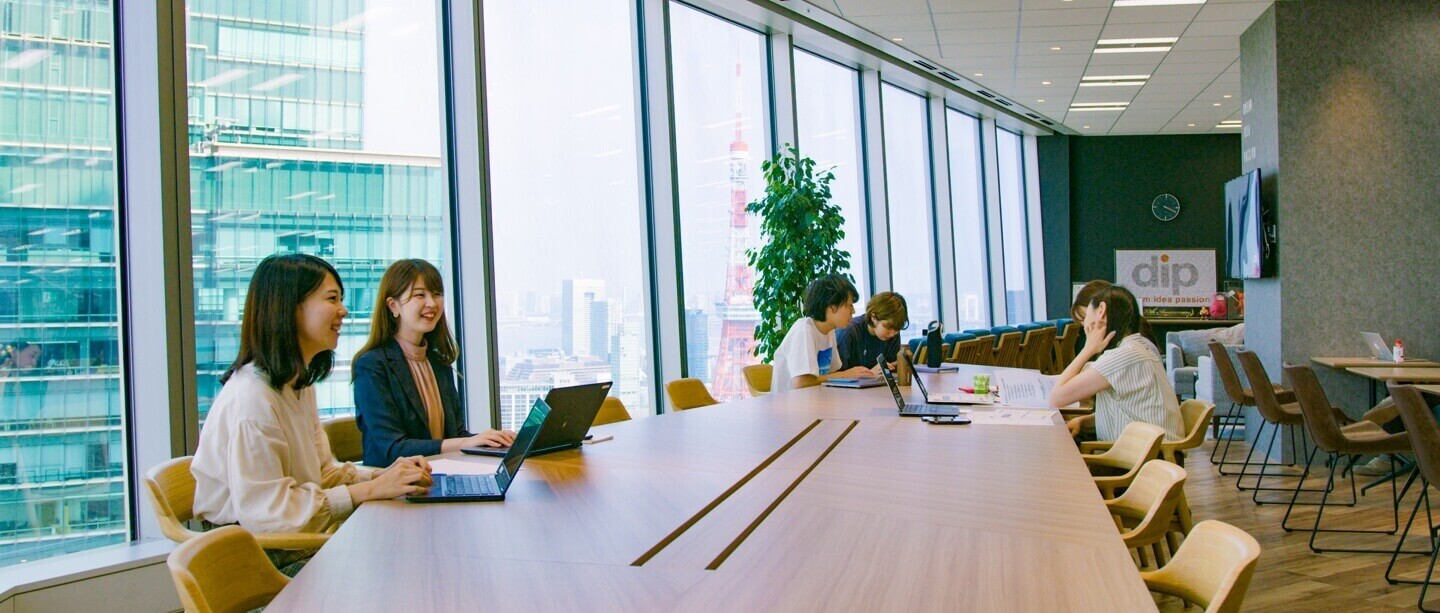 Promotion of Work Style Reforms and Diversity at Work
Promotion of Work Style Reforms and Diversity at Work
Given the decrease in the working-age population associated with an aging population and a declining birth rate, as well as increasing diversity in terms of the need for workers to balance their childcare/nursing care responsibilities with their work, it has become important in recent years for corporations to create working environments that are able to accommodate diverse working styles. In view of these trends in society, efforts are underway at DIP to promote work style reforms, including the achievement of work-life balance and diversity at work, with the aim of establishing a work environment in which every employee can demonstrate their job performance to the fullest.
---
1. Personnel system to support a flexible working style
DIP adopts a human resource management system that aims to achieve work-life balance and create a workplace where employees with diverse backgrounds are able to demonstrate their individual capabilities to the fullest.
■Flexible working system (Introduced in April 2015)
This system allows employees to choose from the working styles indicated below in a flexible manner, depending on individual needs that may arise in relation to marriage, childbirth, or nursing care for elderly family members.
・No overtime work
・Shorter work week (minimum of three days/week)
・Shorter working hours (can be shortened in 30 minute increments, from one hour to four hours per day)
・Changes to opening/closing hours
■Teleworking system (Introduced in 2016)
DIP has adopted the Teleworking system, a work arrangement that allows employees to work in flexible workplaces outside the office, with the aim of enhancing operational efficiency while helping employees to choose flexible working styles in terms of their physical location or the times when they work.
■Flextime system (Introduced in 2016)
he flexible working time system involves the core office hours (11.00 a.m. – 5.00 p.m.) of the day during which employees are required to be at work, and noncore hours during which employees have flexibility in terms of altering the time they start work or leave the office.
■Anniversary Leave/Family Leave (Introduced in April 2016)
DIP grants two additional days of annual paid leave for employees' special anniversaries or family events, with the aim of helping them pursue quality of life with comfort and a sense of stability in their private or family lives.
■Annual leave by the hour (Introduced in March 2018)
DIP now grants annual paid leave by the hour, with the aim of providing flexibility in working hours. Previously, annual paid leave was granted only in whole or half days.
■Casual dress code (Introduced in March 2019)
DIP has adopted a dress code that allows employees to choose casual attire for work. This is an opportunity for employees to feel comfortable and display their individuality at work.
Results
・Percentage of annual paid holidays taken

 FY2019: 56.9%
 FY2020: 51.8%
 FY2021: 44.9%

・Extra hours worked (hours/month)

 FY2019: 28.5 hours *1
 FY2020: 24.0 hours
 FY2021: 22.5 hours
*1: Average number of hours worked/year for a regular full-time employee (Ippan-shoku)
---
2. Holidays/leave programs supporting a balance between childcare and work
DIP offers a comfortable workplace for female employees following their maternity leave by providing support to those with parenting responsibilities.
■Childcare leave program
As a general rule, this system remains applicable until a baby turns one year old. It may be extended until the baby turns two years old in certain circumstances, such as no vacancy being available at a day care center when the baby turns one year old. At DIP, nearly 100% of employees come back to work after taking maternity leave. Two male employees have used the childcare leave system to date.
■Spousal maternity leave program
Up to seven days of leave may be taken at any time during the 30 days before and after the expected date of birth.
■Short working hours for childcare
Only those with children under three years of age are granted statutory eligibility to use this system. At DIP, employees can use the system longer than the statutory limit by taking advantage of in-house flexible working programs.
■Childcare leave program
Up to ten days of childcare leave are granted in case of the unexpected illness of a child or doctor's appointments for a medical check-up or vaccination. At DIP, the first five days taken are treated as paid holidays, with the salary paid as usual. Employees remain eligible to use this system until their children have completed the third grade of elementary school.
---
3. Initiatives supporting the empowerment of women
The Full of Work Life Project (commonly referred to as "F-Pro") was launched by a group of female employees in 2015 with the aim of promoting autonomous career development for women. During the first phase of the project, 17 female employees were selected from across the company, and they organized and published a magazine featuring articles on self-education for career development among female employees. In the second phase, the team expanded to 40 members who planned and organized in-house events and seminars for self-education. In the third phase, the team expanded further to 100 members and launched BOSS F-Pro, a new project aimed at developing careers for male managers. Furthermore, the team is evolving to take active steps that include publishing a booklet to share stories about career development discussed by 100 female employees and launching the F-Café. In 2013, DIP was certified by the Ministry of Health, Labour and Welfare as a Childcare Support Company and was permitted to use the Kurumin mark. In February 2017, DIP was awarded Eruboshi status by the Ministry of Health, Labour and Welfare for its initiatives to promote women's empowerment activities. There are three classes of Eruboshi certification, and DIP was awarded Class 3, which is the highest ranking.
Actual Results
■Percentage of women

 FY2019: 46.9%
 FY2020: 45.9%
 FY2021: 46.5%

■Percentage of female managers

 FY2018: 26.3%
 FY2019: 29.6%
 FY2020: 31.1%
 FY2021: 32.4%

■Maternity/childcare leave

・Percentage of days taken
 FY2019: 100.0%
 FY2020: 100.0%
 FY2021: 100.0%
・Percentage of returning to work
 FY2019: 100.0%
 FY2020: 100.0%
 FY2021: 87.2%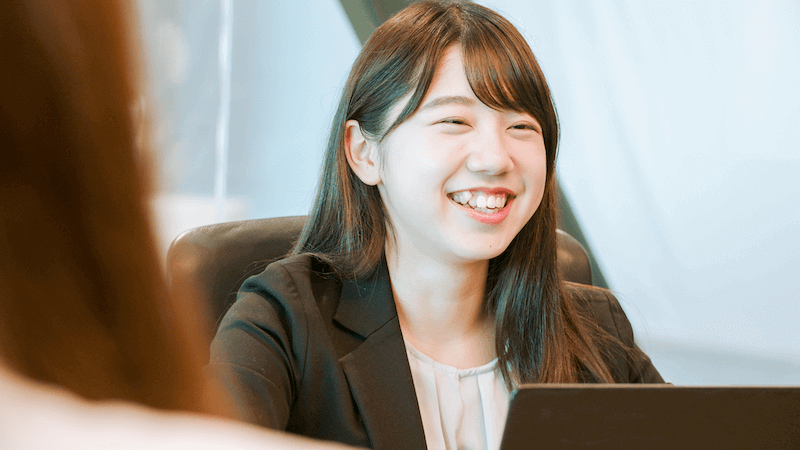 4. Initiatives to promote employment of people with disabilities
DIP actively hires people with disabilities and strives to make the workplace comfortable and attractive for them with the employees' understanding and support.
DIP engaged in campaign activities to promote the employment of people with disabilities in conjunction with the Association of Job Information of Japan, by posting free recruitment ads for disabled job seekers on the company's job portal sites including Baitoru and Hatarako Net.
Percentage of people with disabilities employed at DIP


・FY2018: 2.05%

・FY2019: 2.07%

・FY2020: 2.04%

・FY2021: 1.99%