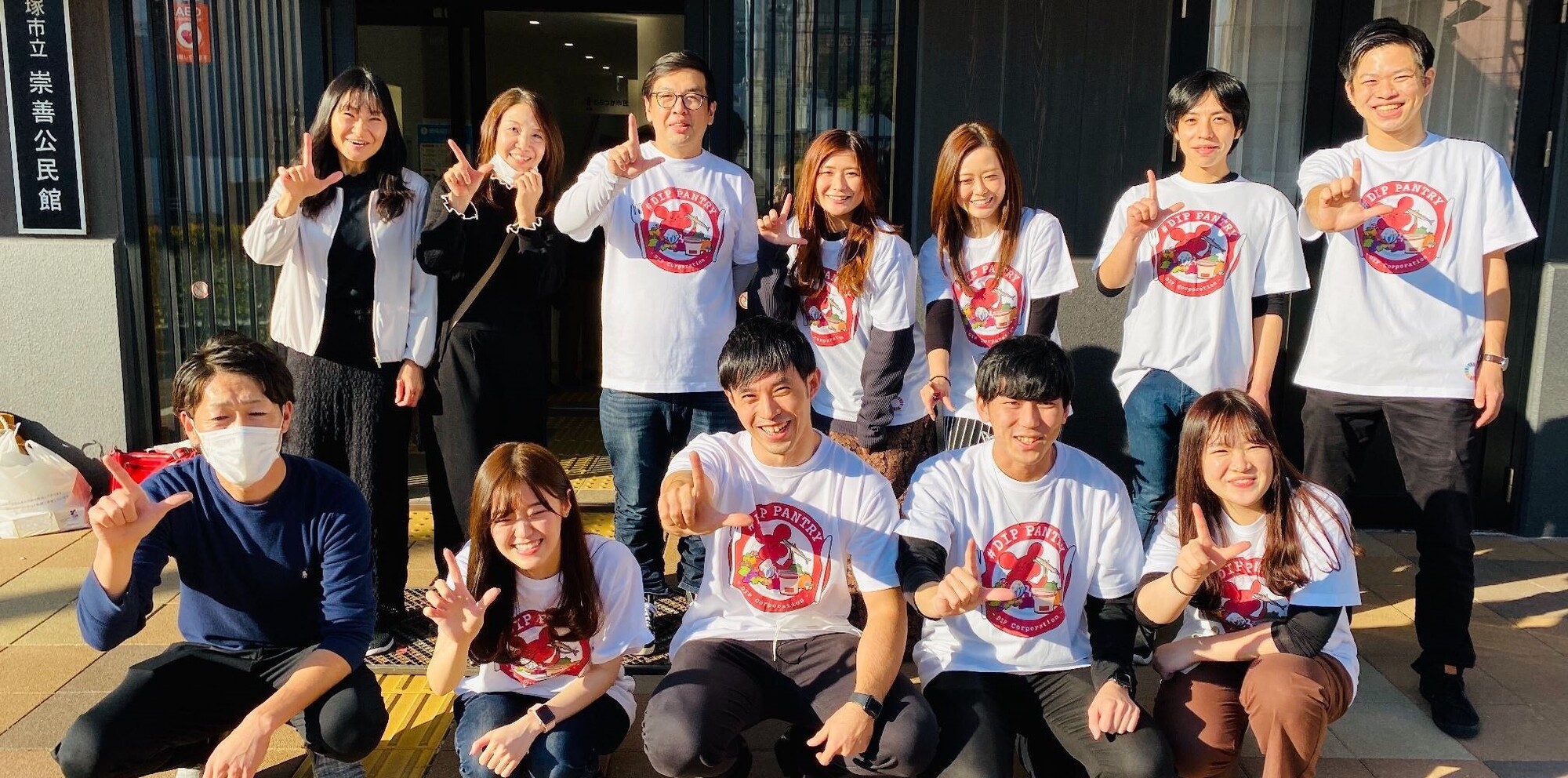 Relationships with local communities and society
Relationships with local communities and society
DIP is committed to addressing issues faced by local communities, including regional revitalization, as well as other social issues. To accomplish this, we work with diverse stakeholders including local communities, governments, universities, NGOs, and NPOs toward the ultimate goal of building a society in which everyone enjoys prosperity. We have also developed a system that permits employees to proactively participate in community and social activities, including a volunteer leave program. Through these and other initiatives, both corporate and social, we will contribute to making a better society for everyone.
1. SDG Project "Shakatsu!
In line with our corporate philosophy, "Here at DIP, we want to tap into dreams, ideas and passion to create a better society," our employees are working together to achieve the Sustainable Development Goals (SDGs).
In July 2020, as part of this effort, we launched the SDG project "Shakatsu! (Activities for the Improvement of Society) to take tangible action. And in October we established the SDG Promotion Division to coordinate our corporate response to sustainability goals.
Food Bank Project
Based on ideas gathered from around 300 of our employees, the first initiative through 'Shakatsu!' has been the Food Bank Project. While there are people who are unable to work due to the corona epidemic, or who struggle to feed themselves and their families on a daily basis due to economic circumstances, it is said that 6.43 million tons* of consumable food is wasted annually in Japan.
To combat this situation, we will work in cooperation with regional food banks and food production companies/retailers to ensure that this food is reaches those in need of it.
* Reference: Ministry of Internal Affairs and Communications Population Estimates (FY 2016), Food Supply and Demand Chart (approximate value) for FY 2016
Outline of the Joint Pantry
Through our volunteer work with food bank organizations, we have recognized a variety of issues, including the lack of human resources to distribute and deliver food, the insufficient use of 'lost food' (food approaching expiration date, food over-stocked or unwanted for other reasons in spite of being edible), and the lack of awareness among the general public surrounding the work of food banks. Taking advantage of our strengths and connections as an organization we are planning and operating a 'shared pantry' to distribute 'lost food'.
Distribute fliers to our client companies in the area to call for the donation of 'lost food'.
Promote awareness of the food bank through specialized pages and email newsletters.
Provide volunteer staff on the day of distribution
---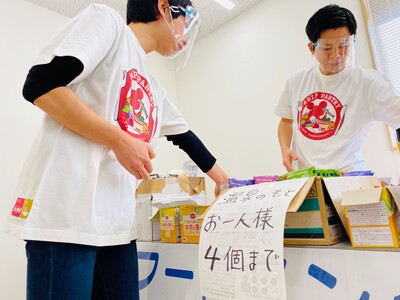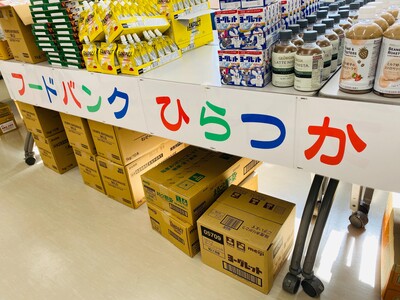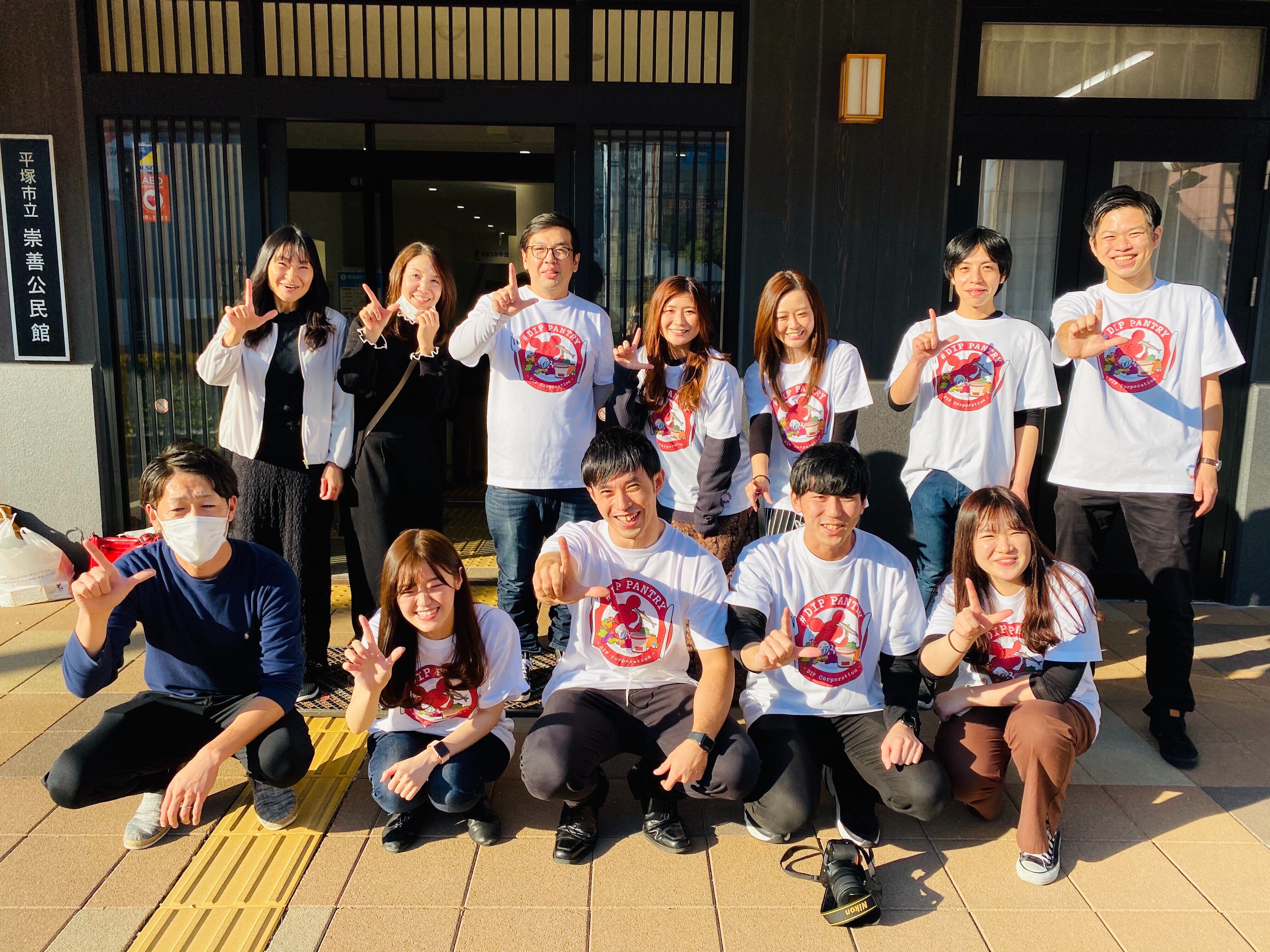 2. Support for Start-ups
AI.Accelerator
To help revitalize AI ventures in Japan, DIP launched the AI.Accelerator, Japan's first exclusive incubation program for AI ventures, in April 2017. We provide support to companies selected in each term through a three-month Accelerator Program. Once the program is completed, we invest in, or form business partnerships with, companies and businesses that have passed the screening process. We make seed investment in AI-related businesses and talented entrepreneurs, aiming to produce AI mega-startups that will have a global impact.
GAKUcelerator
In 2018, DIP launched GAKUcelerator, a program that supports all student start-ups regardless of whether they are operated by students in primary school, junior high, high school, college, university, or graduate school. We have introduced this investment program to foster student start-ups in response to the declining trend in the number of student entrepreneurs. Thus, we are proactively investing in the future generations that will contribute to society.
■AI.Accelerator
- Cumulative total as of term 10: 650 applications and 77 adopted companies
---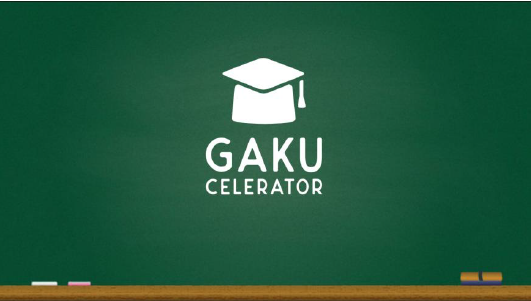 3. Baitoru Kids Program
Under the "Baitoru Kids Program", our employees share with children their knowledge of working in the real world, and their experiences in providing personnel recruiting services to clients. This program creates opportunities for children to visit places of business in their local communities with the goal of facilitating an understanding of the meaning and value of working among future generations.
During the elementary school years children form the critical foundations that will allow them to develop the independence and social skills necessary to become functioning members of society, as well as the ability to search for and define their individual life paths. This makes career education(*1) in elementary schools particularly important. However, elementary school teachers have busy schedules, and in many cases lack a broad range of career experience. These factors can make meaningful career education difficult at the elementary school level with the result that a significant number of schools are unable to devote sufficient time to these programs.
*1 Career education is defined as education that promotes career development by cultivating the skills necessary for children and youth to develop into functioning members of society, skilled workers, etc. In 2006, MEXT defined career education in its Guidelines for Promoting Career Education in Elementary, Middle, and High Schools. (Source: Ministry of Education, Culture, Sports, Science and Technology (MEXT))
The Baitoru Kids Program aims to assist in the career education of children by sending dip employees directly to schools to serve as guest lecturers. This program takes advantage of the community relationships and work know-how we have developed through the operation of our Baitoru recruiting information website for part-time jobs.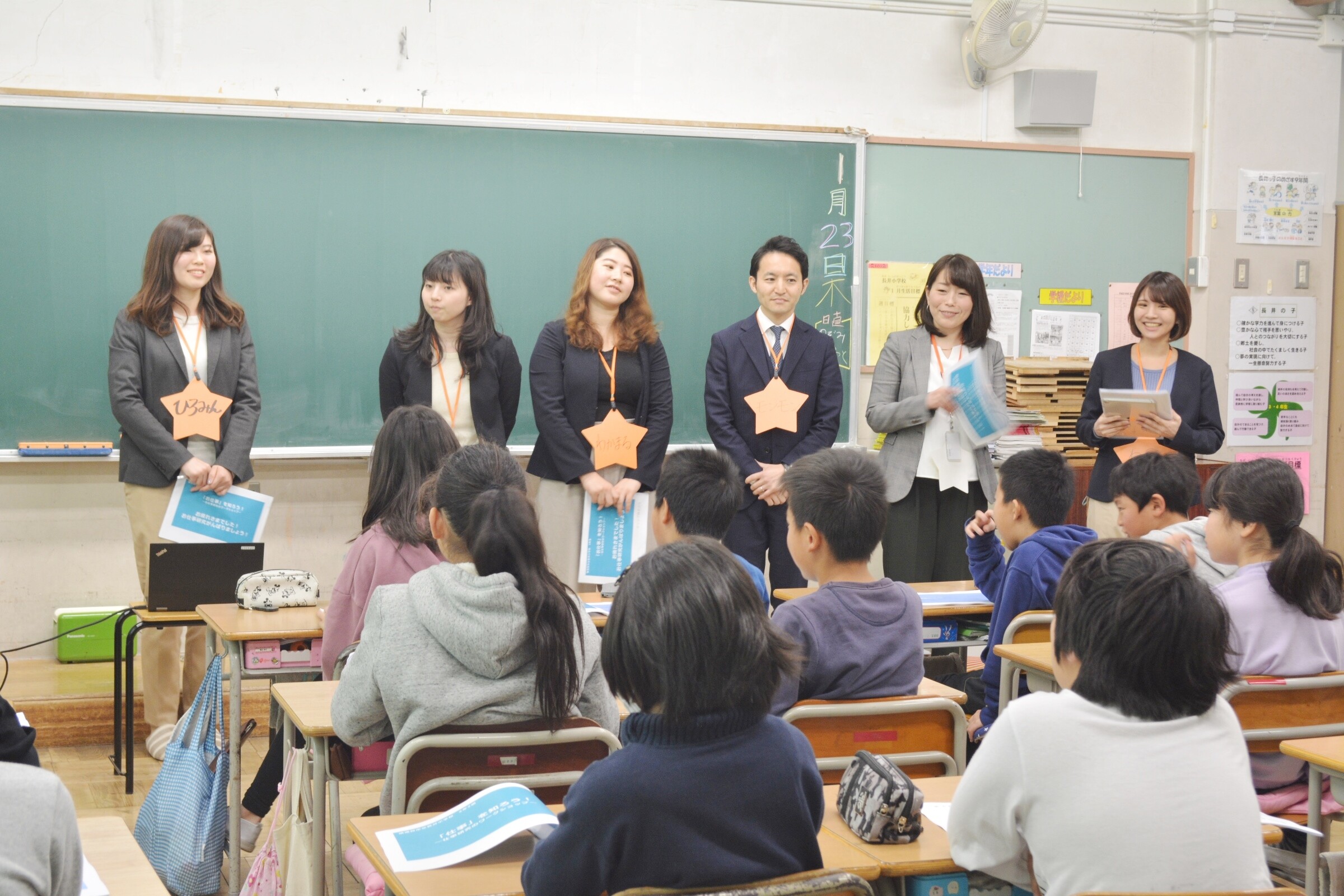 In FY2020, we conducted a three-day Baitoru Kids Program during which select company employees had the opportunity to talk with students about the unique characteristics and rewards of various kinds of work. Employees and students then visited local cooperating companies together where they interviewed workers and took photos and video of the workplace. Based on those experiences, the students then created job information articles and recruiting listings which were posted to the Baitoru website.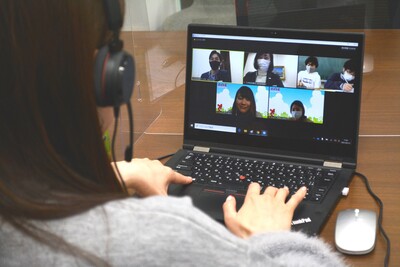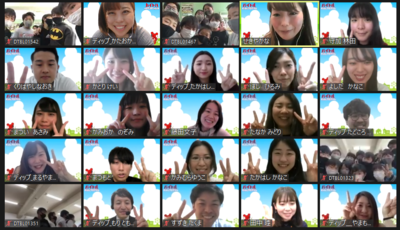 During the fiscal year ended February 28, 2021, we expanded our collaboration with 11 companies in 12 diverse industries. Our employees participated online as instructors for a total of three days. After learning about various types of jobs and their characteristics, the children interviewed some of the employees themselves and presented their ideas on what kind of work they would like to do and how they would like to work in the future.
We will continue working to contribute to our local communities by helping children to understand the meaning and joy of work.
■Actual results (FY'21/2)
・Cooperating companies: 11 companies from 12 industries
・Dip employees participating on the day: 23
・Students participating on the day: 57
---
4. Participation in Tour de Tohoku, a Reconstruction Support Event
Every year, dip supports the Tour de Tohoku as a Silver Partner, a reconstruction support event hosted jointly by Kahoku Shimpo Publishing Co. and Yahoo Japan Corporation. We have been supporting this cycling event since it was first held in 2013 with the aim of aiding the reconstruction in the areas affected by the Great East Japan Earthquake of 2011, and preserving the memory of the disaster for future generations. In order to ensure long-term support for the heavily damaged region, the Tour de Tohoku aims to continue holding this event for at least ten years. The cycling route includes a coastal area, allowing participants to see and feel what the affected areas are like now, while admiring the magnificent natural landscape of Sanriku. Part of the proceeds from this event go to the Tour de Tohoku Fund which is used to support reconstruction activities in the areas affected by the Great East Japan Earthquake, including the promotion of bicycle tourism in Tohoku and the development of cycling roads in the area.
Dip has been supporting the reconstruction of the areas affected by the Great East Japan Earthquake through our sponsorship of this event while also providing people in the Tohoku area with job opportunities via Baitoru, Hatarako net, and other services. In April 2018, we established an office in Sendai. We will continue striving to support reconstruction by improving the working environment and providing job opportunities in a more community-based manner.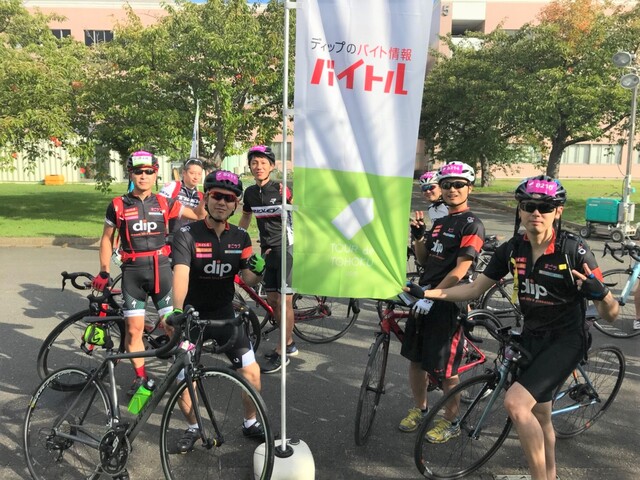 ■Amount of community investment
Fiscal year ending February 28, 2022 1,275,000 yen
※ In 2021, this event was not held due to the spread of COVID-19, however part of the sponsorship money was used to support the ongoing reconstruction in the Tohoku region.
※ Dip is a corporate sponsor of the Tour de Tohoku which is hosted annually by Yahoo! Japan. For FY'20/2 and FY'21/2, it was not possible to hold this event due to the spread of COVID-19, however part of the sponsorship money was used to continue the ongoing reconstruction in the Tohoku region.
---
5. Other Community Engagement Activities
DIP believes that it is important to establish an affinity among citizens for our brand of services by providing them with job opportunities via Baitoru and Hatarako net, both locally and nationwide. We aim to build a prosperous society by helping people, including students, to find a job that allows them to understand the fun of working.
■June 2016: Daigaku Taiko! Gomi Hiroi Koshien, an inter-university trash pickup competition
In 2016 and 2017, DIP co-sponsored Daigaku Taiko! Gomi Hiroi Koshien, an inter-university trash pickup competition hosted by Creative PR Inc. This event was created mainly by Goda Yoshio Bu, a volunteer group consisting of university students who are interns at Creative PR. The university students' desire to "contribute to disaster-affected areas by doing what we can do in Tokyo since it is difficult for us to go to those areas individually" was embodied in this form of double volunteering.
In the 8th competition that was held in 2017, university students solicited via Baitoru and Hatarako net picked up trash as volunteers. The hours they worked were multiplied by the number of volunteers and then by an hourly wage of 1,200 yen to calculate the total amount of money that was then donated to the Kumamoto Prefectural Government to help those affected by the 2016 Kumamoto earthquakes. The donation destination was determined through a series of discussions by university students who belong to the Goda Yoshio Bu.
In this event, university students support distant disaster-affected areas through volunteer activities in Tokyo. Due to the uniqueness of the project, it has been covered by various media outlets, causing a change in the way people think about supporting disaster-affected areas.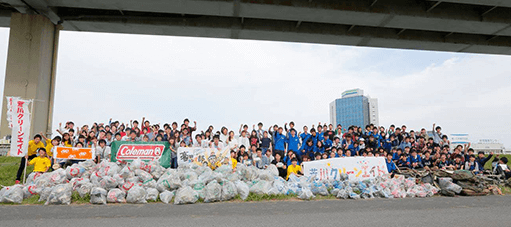 ■December 2017: Co-sponsoring The Best of Gakuensai, a competition to determining the best university festivals
First held in 2009, this event aims to develop and improve the quality of university festivals. It is organized by a group of people from universities who study university festivals jointly with members of the festival planning committees at various universities. In this competition, the autumn university festivals that people most want to attend are selected, and those with the highest ranking are promoted and supported through social media and other tools. The top university festival is determined in the final contest, where presentations on the festivals are given by students. A director of DIP Corporation attended this session and interacted with students.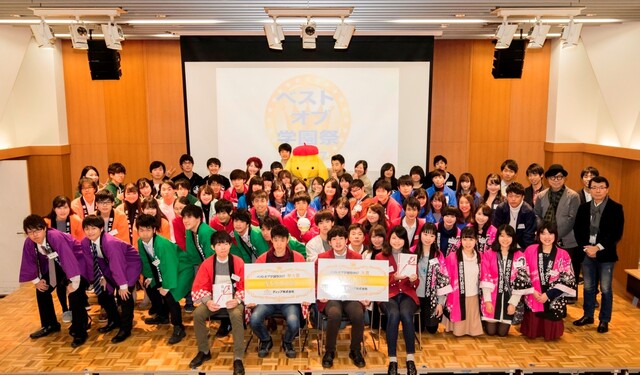 ■Volunteer leave program
DIP has introduced a volunteer leave program in its efforts to create a system that permits employees to proactively participate in community and social activities.