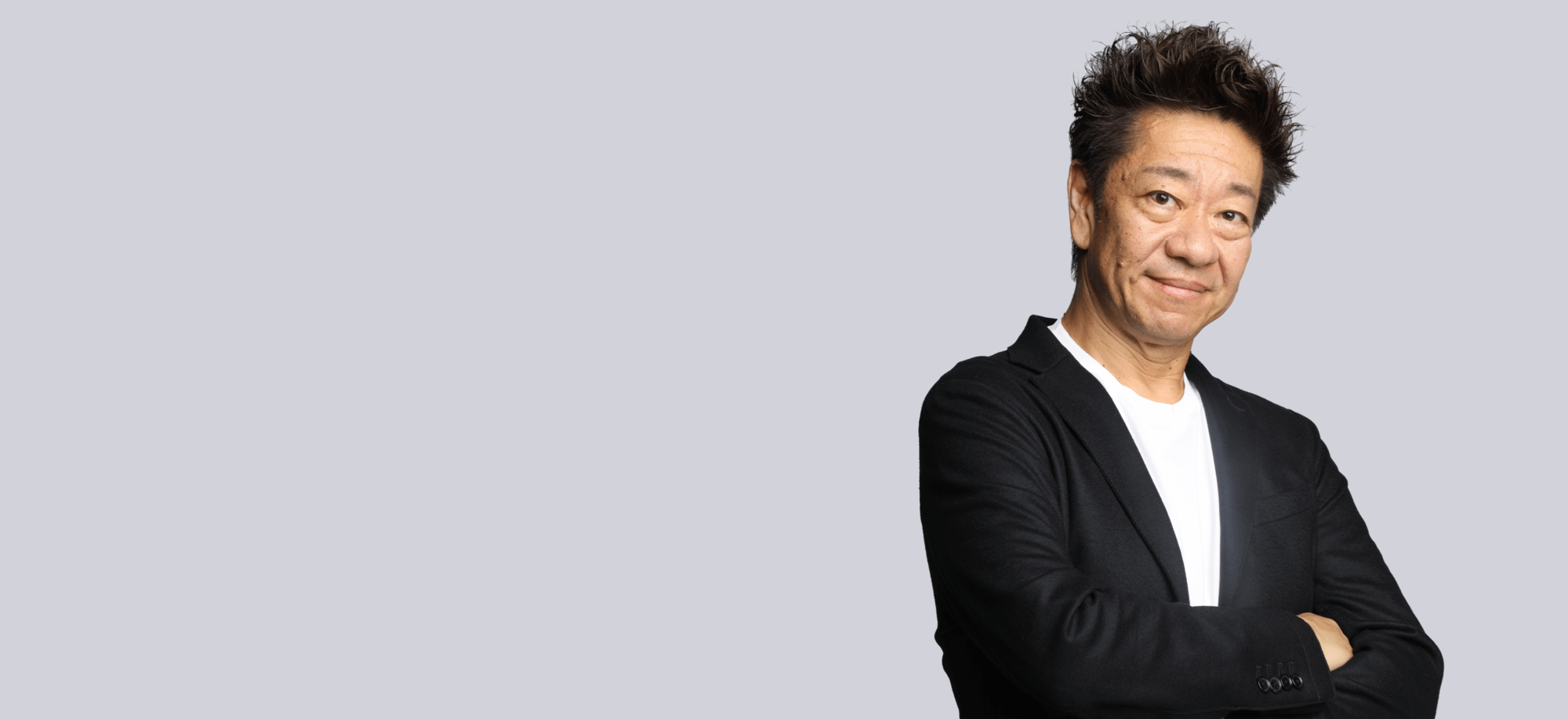 Top
message
DIP Corporation
President and CEO
Hideki Tomita
Top message
The driving force of growth is "dreams, ideas and passion".
The three essences making up the company name DIP: "dreams, ideas, and passion", are what drive us. We have never lost this spirit from the very start. They were the only tools at our disposal when we established this company from stage zero with neither members nor money. If you have a dream that you really want to pursue from your heart, ideas will come to your mind naturally, and you will find within yourself the enthusiasm to make those ideas come true.
Looking back on the history of DIP, there is no doubt that it is a history of continuously running into countless difficulties, and overcoming them. However, no matter the circumstance, we have never lost our determination to "find a way to achieve the big goals by always reading ahead and getting it done no matter what". We have turned setbacks into opportunities by thinking about them from different angles. Overcoming the big pinch of the 'Lehman Shock' through the combined effort of all our employees, DIP marked a milestone achievement with its listing to the first section of the Tokyo Stock Exchange in December 2013, and we went on to celebrate our 20th anniversary in March 2017. Nevertheless, we still have to keep growing to create a better society. We will dynamically change our existing businesses, and actively challenge new businesses, with the intention of meeting the needs of society.
To be a "General Trading Company Dealing in Labor Force" which provides not only human resources but also AI/RPA.
In March 2019, DIP set a new vision, to be a "Labor force solution company".
In Japan, we are facing a serious shortage of labor due to the declining birthrate and aging population, and it is said that many of the current jobs will be replaced by AI/RPA*. Up to this point, we have solved and improved the labor problem by supporting clients in recruiting and hiring. However, from now on, by expanding the conventional business domain and evolving into a "Labor force solution company", we aim to provide our clients personnel recruiting services and AI/RPA services to solve various types of labor-related issues as a "General Trading Company Dealing in Labor Force".
* Robotic Process Automation...An initiative to automate and promote efficiency by using robots for simple office tasks that are now being done manually by humans.
Our initiatives against the spread of the coronavirus disease (COVID-19)
Since the beginning of 2020 the spread of the coronavirus has spawned a climate of fear around the world. We have spent a great deal of time discussing the steps that DIP can take to address this crisis.
Naturally we have taken prudent measures to avoid contagion, by encouraging remote working protocols, adopting flex-time scheduling, restricting our employees from using crowded trains or gathering in large groups, etc.
Furthermore, we have begun to offer free job postings on our recruiting sites for clients in urgent need of short-term replacements for their current employees who are required to stay home with children due to the cancellation of all public-school classes and activities. Also, we have announced a temporary relief compensation program for users of our sites employed at any of our client companies in a part-time or contracted capacity who may fall ill as a result of the coronavirus.
Realizing that many of our users are part-time or contracted employees we understand full well that they do not enjoy the benefits of paid absence or leave allowance that protect regular employees. As distasteful as it is, we must recognize the possibility that some of these users may contract a coronavirus related illness and face serious financial pressures resulting from a loss of income on top of the stress caused by their health issues. DIP would like to alleviate some of the financial anxiety among our users, wherever they are employed, by offering relief compensation to those who are not protected by the safety nets available to regular employees.
Furthermore, we hope that this relief program may serve as a springboard to initiate a larger conversation regarding the disparity in working conditions between part-time and contracted employees, and those in regular employment.
Following our corporate philosophy, 'here at DIP we want to tap into dreams, ideas and passion to create a better society', we will continue reflecting on how we can make the best possible contribution to our society.
DIP Corporation
President and CEO
Hideki Tomita
---
A message from President Tomita was aired in a 'Leaders-ism' television commercial.
We are pleased to announce that on October 15, the regular commercial program 'Leaders-ism', seen on TV Tokyo, aired a message from our President and CEO, Mr. Tomita.