Corporate Governance
Basic Approach to Corporate Governance
As a "General Trading Company Dealing in Labor force", that provides clients with personnel recruiting services and DX services, DIP promotes a vision of becoming a "Labor force solution company" under the corporate philosophy of "tapping into dreams, ideas and passion to create a better society."
To realize the vision, it will be essential to ensure effective corporate governance. DIP aims to improve its medium/long-term corporate value by enhancing management transparency and efficiently running the company under a robust corporate governance system, while fulfilling its responsibilities to all stakeholders.
DIP adopts a system of corporate governance carried out by the Board of Directors, corporate auditors and the Audit & upervisory Board, with the aim of simultaneously achieving sustainable business operations and enhanced audit and internal control functions, while working to effectuate a corporate management that is able to swiftly address changes in the management environment. DIP has adopted this system because it believes that it is preferable for some of its board directors to be involved in important business executions to make effective use of its managerial resources and maintain sustainable business operations. At the same time, the system should, from the perspective of ensuring management soundness, preferably enable non-executive directors to supervise executive directors and corporate auditors to audit business management.
As DIP appoints independent external board directors as non-executive directors, it has set up a support system, such as providing extensive prior briefings of the agendas of Board of Director meetings, so that such directors can exercise their abilities and knowledge to the fullest extent. DIP has also established an optional Nomination and Compensation Committee as an advisory body to the Board of Directors. The committee deliberates and reports on matters concerning the nomination and compensation of board directors in response to requests from the Board of Directors. The majority of the members consist of independent external board directors to ensure the impartiality of the committee.
With respect to audit functions, corporate auditors including independent external auditors attend important meetings such as Board of Director meetings and conduct effective audits by cooperating with the independent auditor and the Internal Audit and Control Office to ensure sound corporate management. Furthermore, DIP has introduced an executive officer system to expedite decision making and ensure its smooth execution, contributing to the establishment of a system that is able to swiftly address changes in the management environment.
DIP is determined to continue its efforts to pursue healthy and transparent corporate management and further improve and enhance its corporate governance in the future.
DIP's Corporate Governance System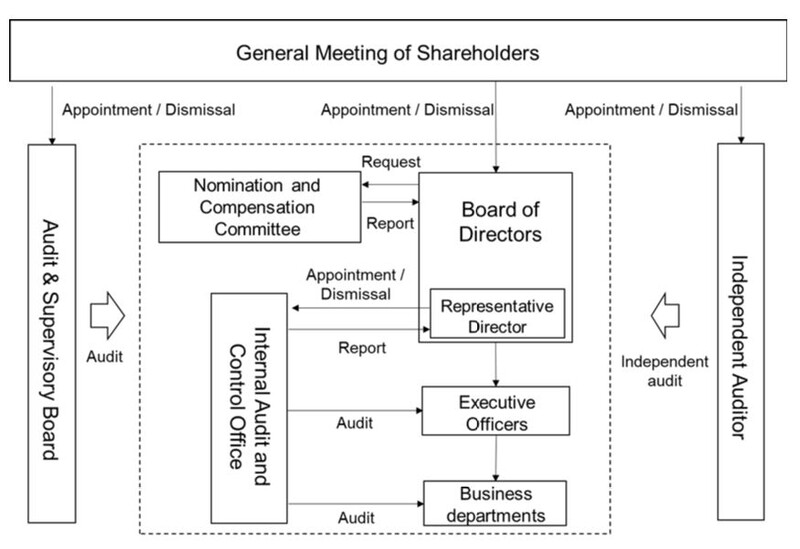 Corporate Governance Report 2020/07/29