Segment Information
As a "General Trading Company Dealing in Labor force", DIP provides clients with personnel recruiting services and DX services to solve diverse labor-related issues under its new corporate vision of becoming a "Labor force solution company."
In view of ongoing efforts to strengthen the services of the AI/RPA business and the future expansion of the business, the business is no longer included in the "other" segment effective FY2021 Q1 but is reported as a separate segment due to a rise in its quantitative significance.
AI/RPA business has been renamed DX business, effective April 1, 2021.

Information on amounts of sales and profit or loss by reported segment
Fiscal year 2021 (March 1, 2020 to February 28, 2021)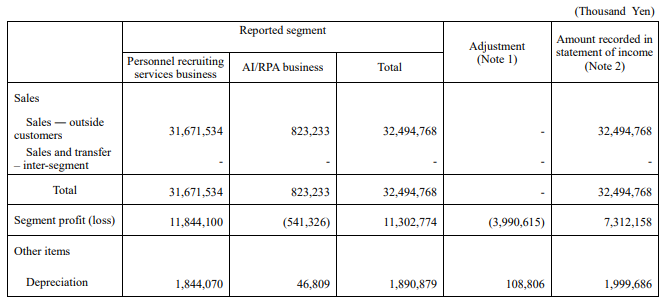 (Notes)
1. Adjustment of segment profit (loss) of (¥3,990,615 thousand) is corporate expenses not allocated to any reportedsegment. Corporate expenses are mainly selling, general, and administrative expenses that are not attributable to reportedsegments.
2. Segment profit (loss) was adjusted with operating income on the statement of income.
3. Assets, liabilities and other items of the reported segments are not disclosed because, based upon a management decisionby the highest decision-making body, such information was not allocated to each segment.

Information on impairment loss or goodwill, etc. on non-current assets by reported segment
Not applicable.