Medium-Term Management Strategy
The Company has formulated dip2025, its medium-term management strategy, to achieve its vision of becoming a 'Labor force solution company' and is striving to realize three business strategies and six business foundations. Through these efforts, the Company aspires to achieve net sales of 100 billion yen and operating income of 30 billion yen for the FY ending Feb. 2025.
Nine Themes for dip2025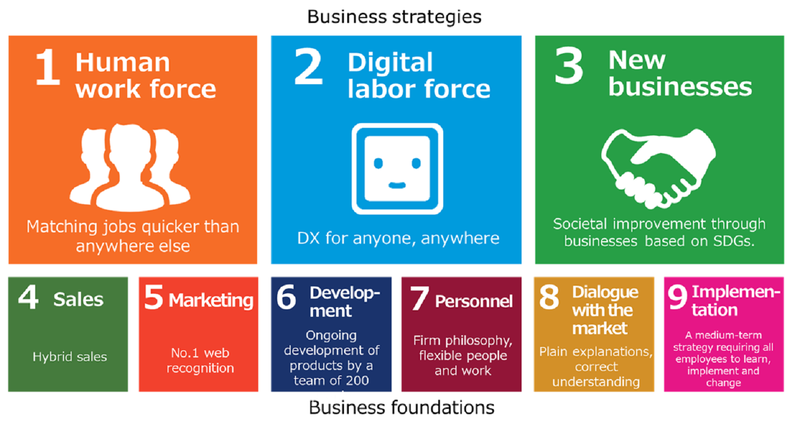 Growth strategy
In addition to the continuing growth of the personnel recruiting services business, we will strive to expand stock revenue with the DX business being a growth driver. We will also launch new businesses based on the SDGs to further enhance our corporate value.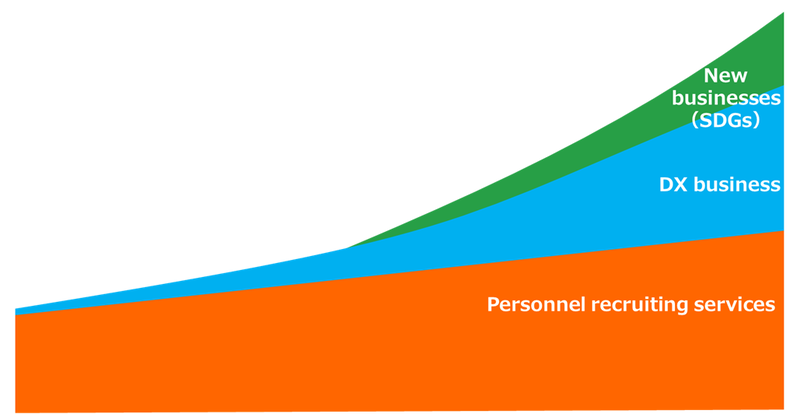 Personnel recruiting services business
In the Japanese labor market, structural labor shortages are expected to continue due to a decline in the working-age population. The Company will collect high-quality job postings through direct sales force and attract more job seekers (including those with current and future needs) to its sites at an accelerated pace by making the most of its high brand recognition. Making full use of the latest technology and greatly improving the accuracy and speed of matching between job seekers and potential employers, we will also create new value by 'matching jobs quicker than anywhere else'.
DX business
The Company supports small and medium-sized enterprises (SMEs) to adopt DX by providing easy-to-implement and easy-to-use products that are packaged according to the business flow of each customer. Leveraging its existing strengths – a broad customer base and approximately 1,500 sales staff - cultivated through its experience in the personnel recruiting services business, the Company will strive to expand the number of companies that are able to utilize DX, and realize the world of 'DX for anyone, anywhere' by providing ongoing support for the operation of DX through a well-established customer success system.
New businesses (SDGs)
The Company's corporate philosophy; 'Here at dip we want to tap into dreams, ideas and passion to create a better society' is right in line with the philosophy behind the SDGs. The SDGs are the goals that the entire international community must address in order to realize a sustainable society, and are, in other words, growth markets proposed by the United Nations. Under the strategy of 'Societal improvement through businesses based on SDGs', we will create new businesses and contribute to sustainable growth and the realization of a sustainable society.