Our Business and Strength
Our Business
Human work force solution
【Personnel Recruiting Services Business】
Description of the Business
In this business, DIP operates Baitoru, a job information platform for part time employees, Hatarako.net, a job information platform for regular, dispatch and part-time employees, Baitoru NEXT, a job information platform for regular and contract employees, and a job agency site for nurses, Nurse de hatarako. The job information platforms, Baitoru, Baitoru NEXT and Hatarako net, are business models in which the main revenue comes from posting fees paid by our clients. The job agency site for nurses, Nurse de hatarako, receives a commission from clients when they are able to hire a nurse through our service.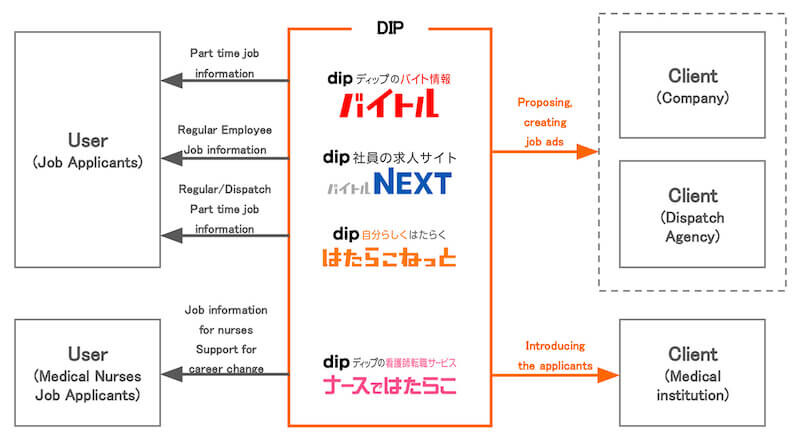 Our Strength
◆Our internet services offer the industry's first and most innovative functions
DIP launched an internet job advertisement service even though at that time our competitors provided their job ads mainly through paper based media. By releasing various innovative services and functions unique to the internet one after another, we have gained the support from a lot of users and delivered applications to our client companies.
・Work Place Video
The Work Place Video provides a look into the work atmosphere that users aren't able to see through letters and photos. Approximately 80% of the job ads that are posted on Baitoru include a work place video. This greatly improves the accuracy of matching between job seekers and companies.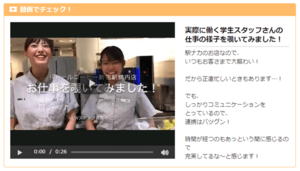 ・Uniform Photos
Approximately 60% of users are concerned about the workplace uniform. In addition to posting images of important points in choosing a job 'uniform', this function also enables searching by uniform appearance/photo. This function meets the requests of our users who place a great deal of importance on the design of the uniform.

・Barometer for Application Status
This function enables users to see the application status of each job offer at a glance. It meets user needs such as "I want to apply for a popular job." or "I want to find jobs with fewer competitors".

・Barometer for Work Environment
The underlying features of the work environment and job description can be clearly shown by the barometer. This helps users to choose a job by providing more detailed information that job seekers want to know.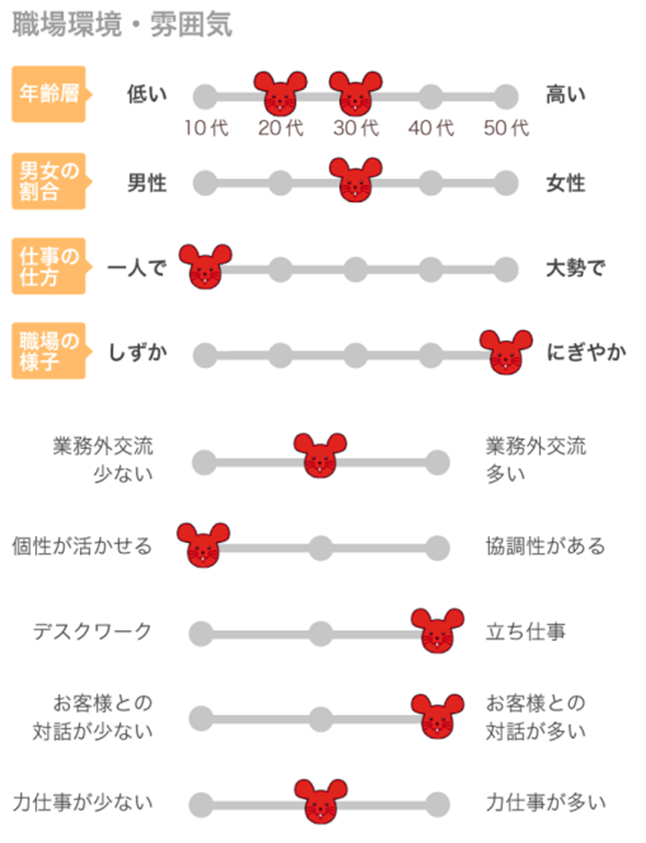 ・Job Experience / Work Place Visit
This function effectively reduces the chance of a mismatch by giving the prospective employee a chance to experience the place of employment firsthand.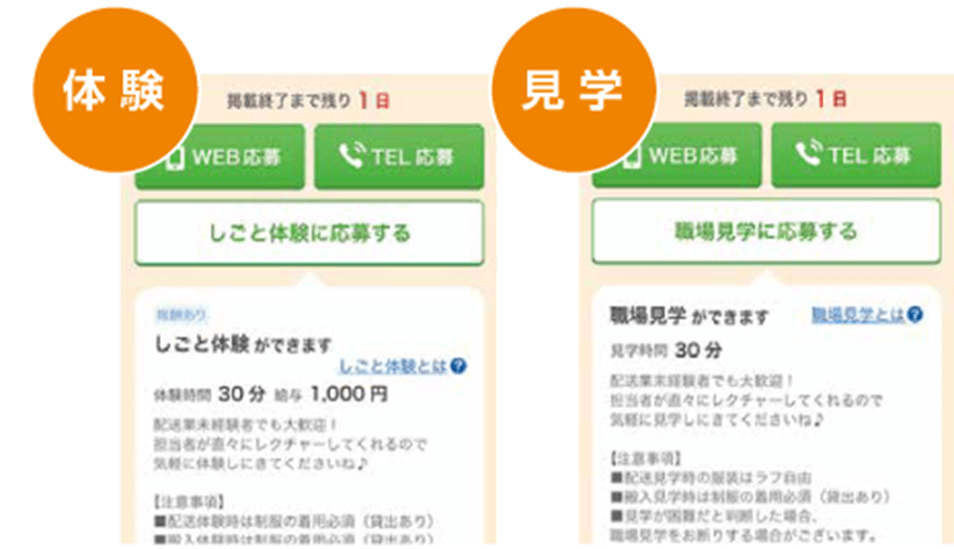 ・iScout / iApproach
Clients are able to send scouting email to users based on profile and historical data. It improves the likelihood of a good match between applicant and clients.

◆Dynamic promotions featuring popular artists, athletes and television personalities
DIP strengthens our brand power by producing commercials using trendy artists such as "Nogizaka 46" and collaborating on various popular events.
・Highly favorable commercials featuring popular artists, athletes and television personalities
◆Develop salesforce capability by hiring new graduates and training them extensively
Although the environment surrounding hiring of new graduates is extremely competitive, DIP hires approximately 300 every year. Our extensive training program develops consultants who provide the client with specific proposals concerning the retention and development of employees by taking into consideration the client's particular recruiting issues.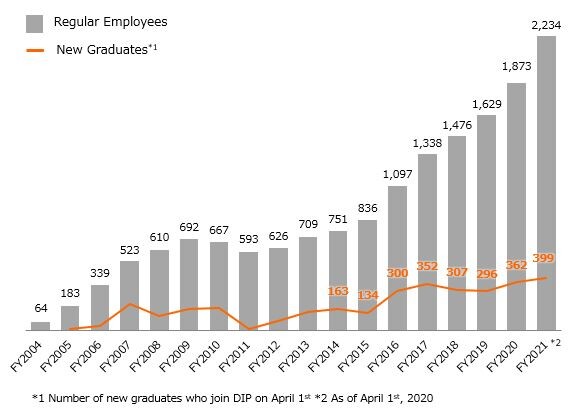 We are widening our customer base by actively expanding our network of branch offices.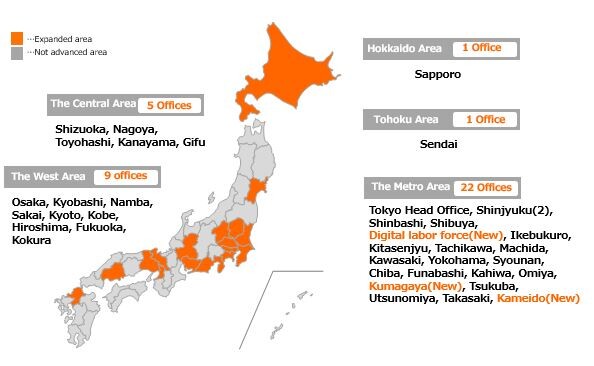 Our Business
Digital labor force solution
【AI/RPA Business】
Helping clients increase productivity with their employees focusing on higher value-added tasks
Understanding that the issues of a declining birthrate and an aging population are irreversible, companies are looking at technology to alleviate the problems and burdens associated with a shrinking workforce. Our AI/RPA solutions fill that gap. By using AI/RPA to automate routine tasks, employees can focus on higher value-added work. Looking ahead, we will expand our lineup to improve productivity throughout all levels of the organization.
Based on the broad network of clients built through RPA sales, going forward we aim to establish the DIP Automation Platform, which will be equipped with AI tools.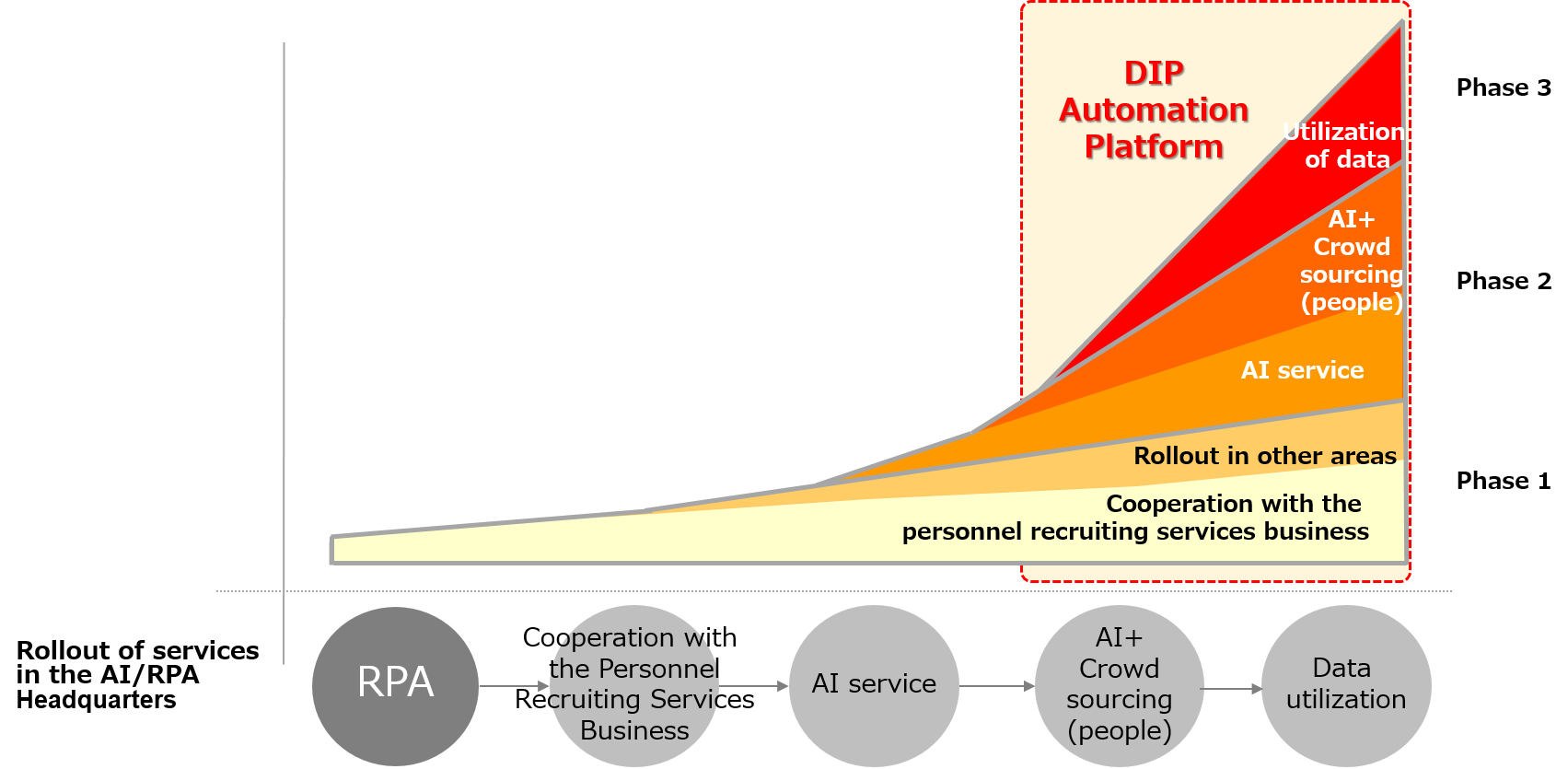 "KOBOT" delivers fast RPA service to anyone, anywhere.
AI/RPA has gained attention as a technology with the potential to alleviate labor shortages and improve productivity. However, the installation processes and the cost of development and maintaining traditional RPA products have created some barriers to widespread adoption.
For these reasons we developed "KOBOT", a fast RPA service that is easy to install and maintain. Utilizing a combination of existing AI and RPA tools, KOBOT was launched in September 2019 under a monthly subscription model that includes maintenance and support.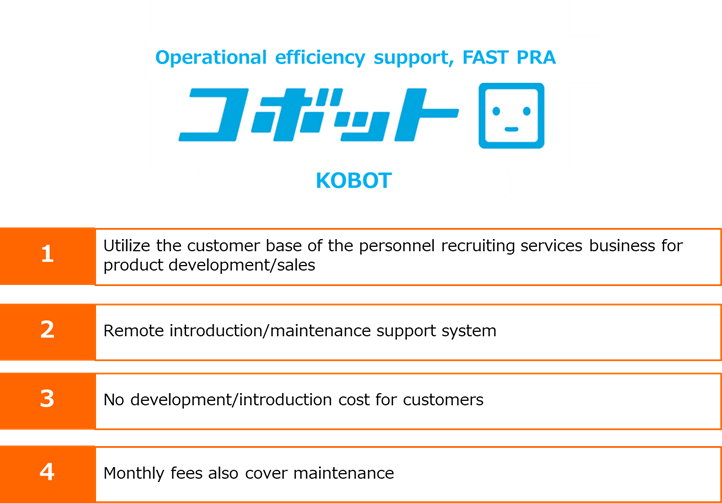 Progress in the KOBOT
We have started to offer RPA service for dispatch companies. Afterwards we launched Interview KOBOT Light service for restaurant and retailers business in November, 2019. Furthermore, we started sales of the tool for the real estate business in June 2020.