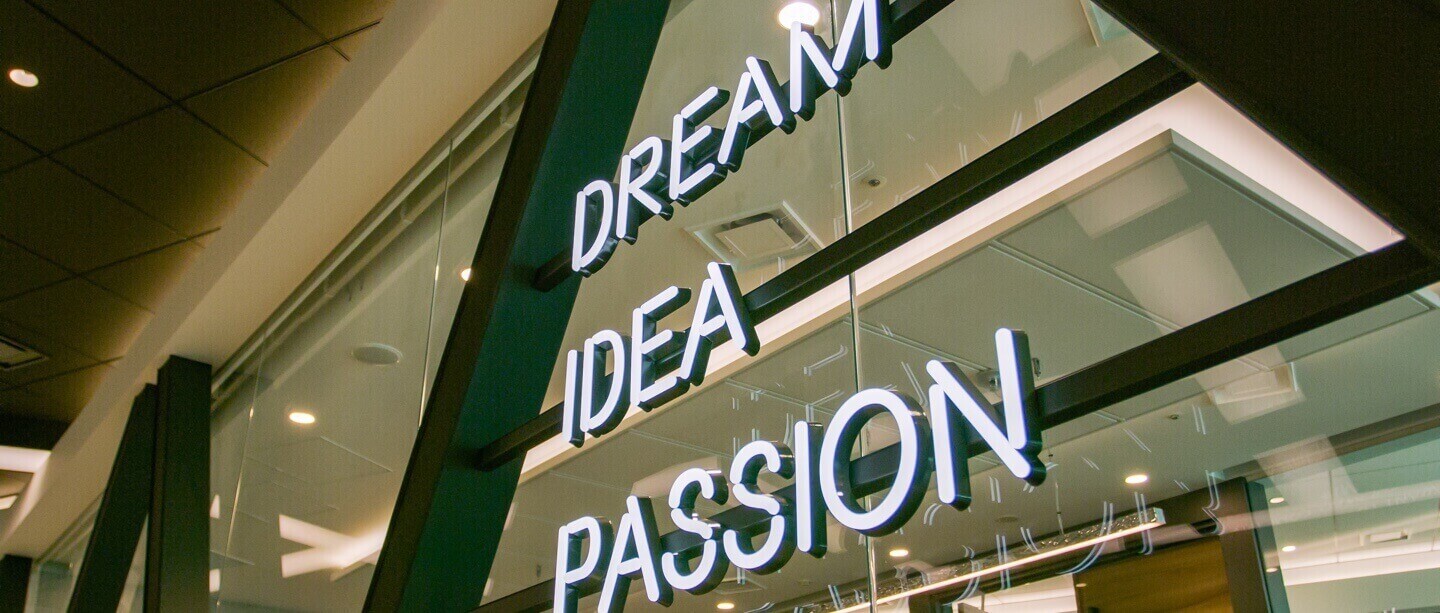 Contribution toward solving various types of labor-related issues through our main business
Contribution toward Solving Various Types of Labor-related Issues through Our Main Business
As the foundation of our corporate activity DIP will continue to support recruiting and maximize the utilization of human resources through our job information platforms and job agency site. We also aim to make a contribution toward solving various types of labor-related issues in Japan and create opportunities for job seekers to work actively.
1. The market environment
■ Transformation of social and corporate issues
In recent years, the working population has been decreasing due to the declining birthrate and aging population. The effective job offering ratio in February 2019 was 1.63, the highest level seen in 45 years, reflecting the recent period of high economic growth. The labor shortage has become more serious. An increasing number of companies struggle not only with recruiting and utilization (retention and training) of human resources, but also face difficulties associated with low productivity. DIP aims to create solutions for the labor shortage, while being mindful of the various types of social and corporate issues particular to the Japanese labor market.
*Quote:the Ministry of Health, Labor and Welfare's "Job Employment Statistics"
■ The changing needs of job seekers
Changes in lifestyles and a diversification of the workforce have led to changes in the needs of job seekers. It's getting more important for job seekers to feel fulfilled in their work and enjoy meaningful relationships with colleagues than in the past when high salaries and promotions were the key factors for most employees. Companies are required to respond to the shifting mindset of job seekers.
2. Social value provided by DIP
We constantly strive to deliver the best matches between companies and job seekers by providing services that respond to the changes in the way of looking for a job. We also propose ways to create a workplace where employees are enthusiastic about their work and want to continue with their company for many years. We aim to make a contribution toward solving the labor shortage, while at the same time create opportunities for people to work actively in an environment that suits their requirements.
■ Providing matching services that meet the needs of job seekers
On our sites DIP has been able to develop original functions that lead the industry by putting the needs of our users first and by taking advantage of the capability of the Internet to deliver the greatest amount of fresh information. Baitoru and Baitoru NEXT, two of DIP's internet based job information media, provide various services such as the Barometer of Application which lets job seekers easily distinguish the most popular jobs in real time, Work Place Videos that give a real glimpse of the work atmosphere through video presentations, and the Job Experience / Work Place Visit feature that provides job seekers the opportunity to see and experience the workplace firsthand before starting the job. We will continue to minimize mismatches between job seekers and companies and improve retention rates by providing matching services that meet the needs of modern job seekers who place a significant importance on the content of the work and the workplace atmosphere.
【Service】
・Work Place Video
The Work Place Video eases job seeker anxiety by providing a look into the work atmosphere that users aren't able to understand through reading traditional job postings or looking at photos. This function allows companies to appeal to job seekers by showing the attractive features of their workplace that could not be communicated by traditional job advertisements.
・Barometer for Work Environment
This feature allows users to see at a glance the underlying features of the work environment and job description, including details on the demographics of the workforce such as gender ratios and age breakdowns.
・Job Experience / Work Place Visit
This function provides the prospective employee a chance to experience the place of employment firsthand. Job seekers are able to have a job interview after their job experience or workplace visit, so this function is effective in reducing the chance of a mismatch.
■ Providing services that contribute to expanding job opportunities for a diverse pool of human resources
We offer job information that meets the needs of new sources of labor such as women who return to work after pregnancy and childbirth, housewives / housewives who take care of children or elderly family members, seniors, and foreign workers. We support corporate diversity by expanding job opportunities for a diverse population of job seekers.
■ Providing services that support service for non-regular employees to transition to work as regular employees
Baitoru NEXT posts a lot of job information for job seekers who are able to consider the transition to regular employment even if they have never worked as a regular employee before.
The Japanese government has started a support program for non-regular employees (particularly those who first began looking for a job during "the employment ice age* ") to transition to work as regular employees. We will continue to support job seekers who are highly motivated to make the shift to full-time employment. *Generation who began job searching as new graduates between 1993 and 2008
■ Proposals beyond the scope of regular recruiting services
Recruitment consultants visit the workplace and check the status of employees and the workplace environment to propose measures for improving rates of retention, creation of a work environment to prevent early turnover and development of training and management systems. Through these proposals we support the creation of an environment where workers are able to work vigorously and contribute to the improvement of the capabilities of corporate recruitment and development.
■ Raise the Salary Campaign to help workers earn a fair living wage
In May 2013, DIP launched the Raise the Salary Campaign at Baitoru to encourage employers to increase hourly salaries for part-time employees. This campaign has been supported by many corporate customers. We introduced this measure prior to the introduction of the target inflation rate of 2% that was announced by the Bank of Japan in January 2013. The campaign encourages companies to increase hourly salaries, which is then indicated on the job posting with a flag saying "Hourly salary raised" when the ad offers 2% higher hourly salaries than before. In addition, we support workers by ensuring that the minimum salary is exceeded in all job postings on our job information websites. Our Advertising Review Office uncompromisingly eliminates any job ads offering salaries below the minimum wage.
3. New initiatives for the future human resources market
■Helping clients increase productivity with their employees focusing on higher value-added tasks
Understanding that the issues of a declining birthrate and an aging population are irreversible, companies are looking at technology to alleviate the problems and burdens associated with a shrinking workforce. Our AI/RPA solutions fill that gap. By using AI/RPA to automate routine tasks, employees can focus on higher value-added work. Looking ahead, we will expand our lineup to improve productivity throughout all levels of the organization.
Based on the broad network of clients built through RPA sales, going forward we aim to establish the DIP Automation Platform, which will be equipped with AI tools.
■"KOBOT" delivers fast RPA service to anyone, anywhere.
AI/RPA has gained attention as a technology with the potential to alleviate labor shortages and improve productivity. However, the installation processes and the cost of development and maintaining traditional RPA products have created some barriers to widespread adoption.
For these reasons we developed "KOBOT", a fast RPA service that is easy to install and maintain. Utilizing a combination of existing AI and RPA tools, KOBOT was launched in September 2019 under a monthly subscription model that includes maintenance and support.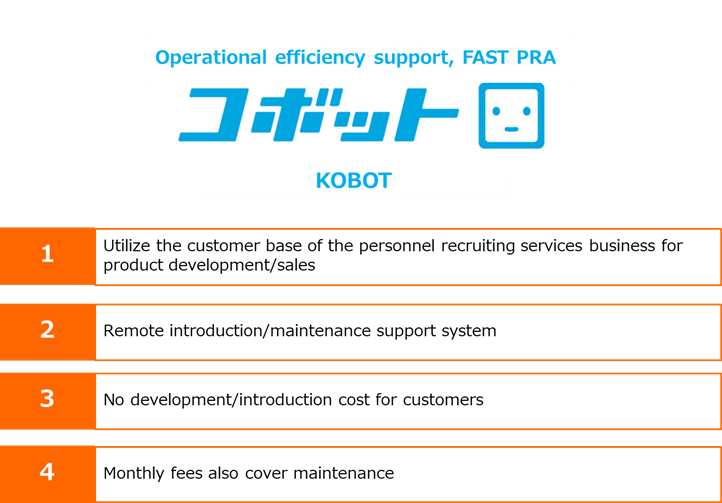 ■Progress in the KOBOT
We have started to offer RPA service for dispatch companies. Afterwards we launched Interview KOBOT Light service for restaurant and retailers business in November, 2019. Furthermore, we started sales of the tool for the real estate business in June 2020.